Your version of "intense" is likely laughable when compared to the training style of Johnnie O. Jackson. He's that guy who gives himself pep talks, grunts with every rep, and finishes a chest workout with a confident toss of the dumbbells. When you're using 160 pounds in each hand for a dumbbell bench press and look the way he does, it's acceptable.
While it could be taken as assertion of dominance or ego, Jackson's evident drive and indestructible focus in the gym are rooted in something much deeper: pain. The agony he feels from session after session with the iron is a true escape from the hurt he felt during his childhood.
Often called the World's Strongest Bodybuilder, Jackson is known for his big-barreled chest, a 550-pound bench press, and a squat and deadlift each measuring over 800 pounds. It takes a combination of power and hypertrophy-style training to achieve the ultimate combo of big numbers and a bulging physique. But Jackson has a mental advantage, harnessing struggle to use it for good.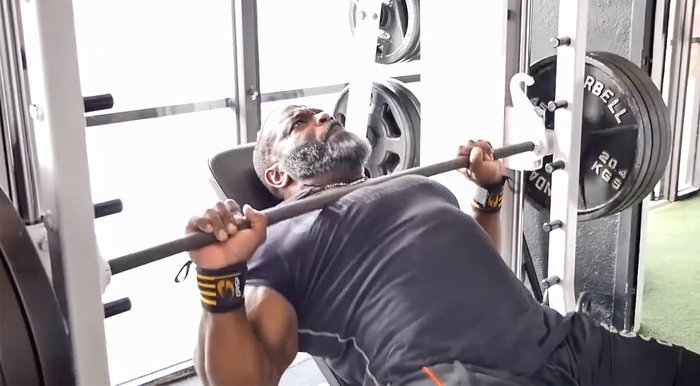 We often see pain, whether physical or mental, as a bad thing. Yet Jackson takes a contrarian perspective. He believes that what you do with struggle is what leads to greatness. In his case, that takes the form of an incredible physique and success as a pro bodybuilder.
"It's a different type of pain other than training, but it all channels into the same place in your mind, you know?" Jackson says. "It just became a friend, so to say, or a comfort. As weird as that sounds, that physical pain that you put on yourself became a feeling of comfort—something different from the mental pain folks carry around each day."
His life is a manifestation of the "no pain, no gain" mantra. It's a short but all-encompassing description of how he got to where he is today, rather than a simple (and sometimes sarcastic) declaration of workout motivation.
Like Jackson says, you can't teach someone how to push through a set, whether that be a set of dips with three chains around your neck or a set of circumstances in life. Whatever your driver is in the gym, it has to keep you going through the physical discomfort and exhaustion. Either you use your pain, or you don't, and Jackson won't tolerate a mindset that's anything less than relentless.