You might think any junk-food drive-thru will align with your bulking phase, but choosing low-quality fuel won't allow you to reach your micronutrient and fiber goals. If you bog yourself down with fatty meat and greasy grains, you'll have a hard time walking to the car, let alone squatting in a few hours.
Not all fast food is created equal, however. By doing your homework ahead of time, it's possible to grab an on-the-go meal that won't sabotage your fitness goals.
When fast food is your only option, or you simply want a break from meal prep, consider one of these eight muscle-building menu options! Pair them with a whey protein shake—one of the simplest one-the-go sources of protein there is—to keep the gains coming!
1. Chipotle Mexican Grill
When you want out-of-this-world portions, you go to Chipotle. Chipotle offers numerous calorie-dense options and generous helpings. This relatively healthy fare makes it easy to stick to a diet and enjoy some delicious Mexican cuisine.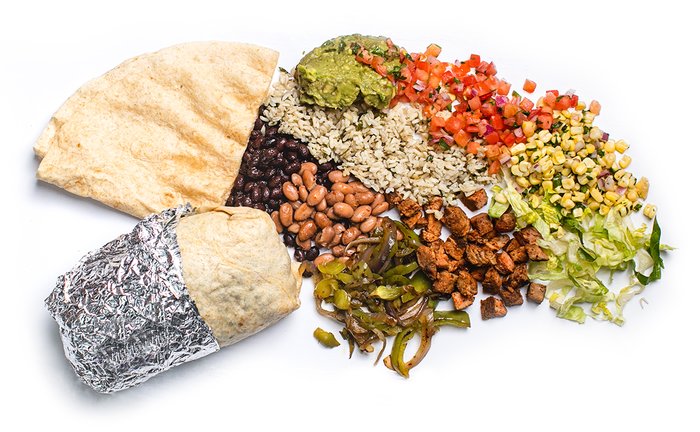 Option 1: Steak Burrito with brown rice, black beans, pinto beans, fajita veggies, corn salsa, mild salsa, lettuce, and guacamole. Even if you choose the burrito bowl with a salad base (no tortilla), you can easily surpass 1,000 calories! Adding guacamole helps even more.
Calories: 1,320
Fat: 48 g
Carbohydrates: 161 g
Protein: 61 g
Option 2: Barbacoa Burrito with white and brown rice, black beans, corn salsa, tomatillo green chili salsa, cheese, and lettuce
Calories: 1,225
Fat: 37 g
Carbohydrates: 168 g
Protein: 55 g
To pack in even more quality calories, ask for a bowl with the wrap on the side, and double your meat. Your server will be able to fit more goodness in the bowl, and you can wrap it however you want. And remember to be kind to your servers—sometimes they'll throw in a bit extra for you.
2. IHOP
Best known for its fluffy pancakes with an array of flavorful toppings and creative takes on all things breakfast, IHOP's gigantic menu offers limitless muscle-building meal options.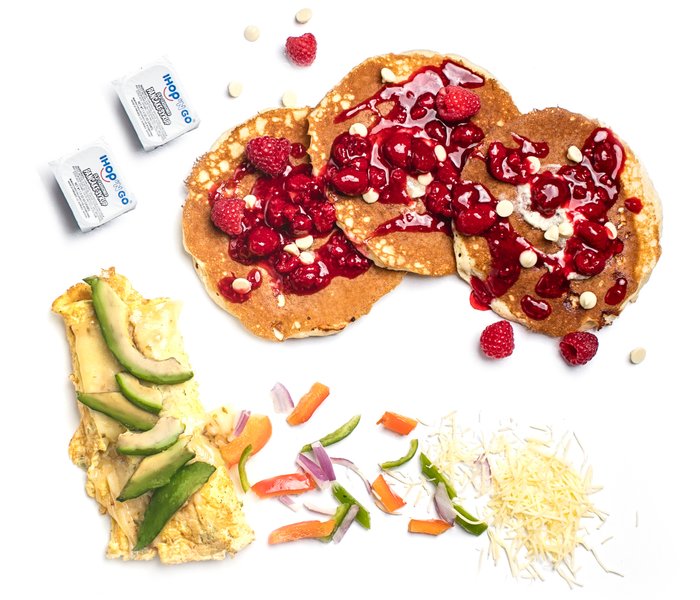 Option 1: Make-Your-Own Omelet with shredded pepper jack cheese, avocado, onions, peppers, and a side of White Chocolate Chip Raspberry Pancakes with syrup
Calories: 1,270
Fat: 46 g
Carbohydrates: 165 g
Protein: 49 g
Option 2: Chicken Fajita Omelet with a side of Chocolate Chip Pancakes
Calories: 1,576
Fat: 92 g
Carbohydrates: 100 g
Protein: 87 g
If you're still hungry, consider ordering a side of whole-grain toast, Canadian bacon, or oatmeal!
3. Chick-Fil-A
Known for its anti-beef campaigning, this chicken-lover's paradise provides numerous tasty takes on poultry and milkshakes.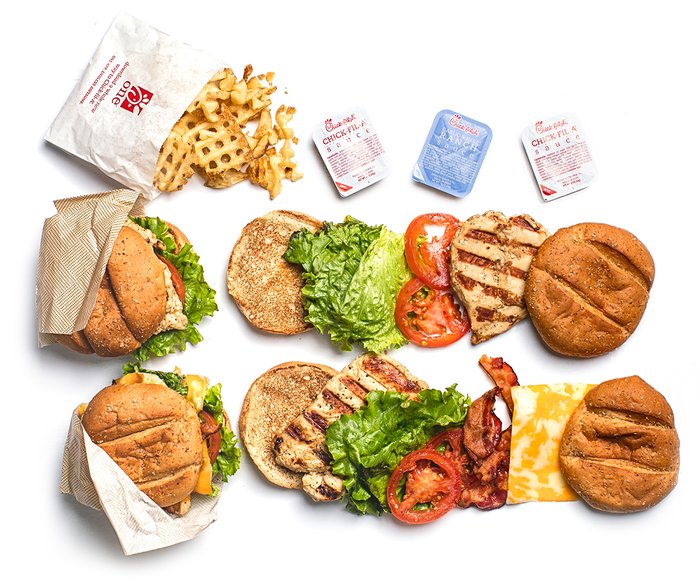 Option 1: Grilled Chicken Club Sandwich, Grilled Chicken Sandwich, small Waffle Fries
Calories: 1,071
Fat: 35 g
Carbohydrates: 118 g
Protein: 71 g
Option 2: Chicken, Egg and Cheese Bagel, Chicken Breakfast Burrito, and Multigrain Oatmeal.
Calories: 1,075
Fat: 43 g
Carbohydrates: 119 g
Protein: 53 g
If you need more calories to meet your day's goal, consider adding a small milkshake for an additional 500-calorie boost!
4. Subway
Subway is primarily known for its freshly baked bread and colorful array of vegetables. Because of their broad assortment of meats, toppings, and condiments, you can make nearly any sandwich or salad fit your goals!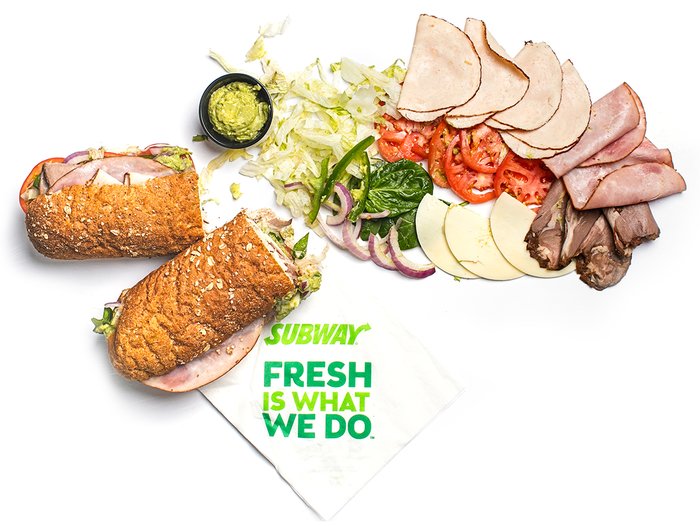 Option 1: 12-inch Subway Club on Honey Oat bread with provolone cheese, lettuce, spinach, tomatoes, onions, green peppers, and avocado
Calories: 933
Fat: 29 g
Carbohydrates: 112 g
Protein: 56 g
Option 2: 12-inch Sweet Onion Chicken Teriyaki on 9-Grain Wheat Bread with provolone cheese, lettuce, onions, olives, spinach, tomatoes, and sweet onion sauce.
Calories: 937
Fat: 17 g
Carbohydrates: 136 g
Protein: 60 g
If you really want to boost your macros, consider shelling out for double meat or cheese, adding guacamole, or pairing with a side of baked chips!
References
Chipotle Nutrition Calculator. (n.d.). Retrieved September 13, 2016, from https://www.chipotle.com/nutrition-calculator
IHOP Nutrition Information. (n.d.). Retrieved September 13, 2016, from http://www.ihop.com/-/media/ihop/PDFs/nutritionalinformation.ashx
Chick-fil-A Nutrition Information. (n.d.). Retrieved September 13, 2016, from http://www.chick-fil-a.com/Food/Meal
Subway Nutrition Information. (n.d.). Retrieved September 13, 2016, from https://www.nutritionix.com/subway/nutrition-calculator