As a girl growing up in the Czech Republic, Zuzka Light recalls that fitness role models for women were few and far between. So she found them in American culture instead. After being inspired by Demi Moore's tough-as-nails character in the Navy SEAL film "G.I. Jane," she joined a gym with big ambitions.
"I saw the strength she had from the inside out and thought that working out would help build my confidence and self-esteem," she says. But walking into a gym for the first time wasn't easy. "Once I opened the door, it was even more intimidating, because all the guys had big muscles, and I was just this scrawny little kid," she recalls. "I had no idea what to do in the gym."
After learning the ropes with some help from fellow gym-goers, Zuzka took to the web and started her first fitness blog at age 25. Now with over 350,000 subscribers and fresh off the release of her first book, "15 Minutes to Fit," Zuzka is hitting her stride.
Excerpt From "15 Minutes To Fit: The Simple 30-Day Guide To Total Fitness, 15 Minutes At A Time"
Despite the balmy Mediterranean weather, sweat poured off my body—that's how hard I was training. Heaving with exhaustion, I tackled the final set of burpees. Don't let the cute name fool you: Burpees are a tough, wildly effective way to blast fat and build lean muscle.
The locals on Malta seemed perplexed by the sight of an Eastern European woman in a sports bra with a firm stomach hopping up and down as though the rooftop—where we were filming this workout—were on fire, but I was doing exactly that. I'm sure these witnesses thought I was crazy.
My husband at that time, Freddy, recorded the entirety of this workout in Malta. We spent much of our marriage traveling to far-flung locations and filming my daily workouts, posting them on YouTube and our website. The first of these workouts was filmed in Prague, where I was born and raised. Then we moved to Canada, where he was raised. But that day's workout took place in Malta, where the low cost of living and balmy California-like weather helped us film outdoors. I could take off my sweats and train in my sports bra and shorts, showcasing my abs without freezing off my glutes. At that time, I was in my early twenties, and I didn't understand how these short workout videos we made would change my life for the better over the following years.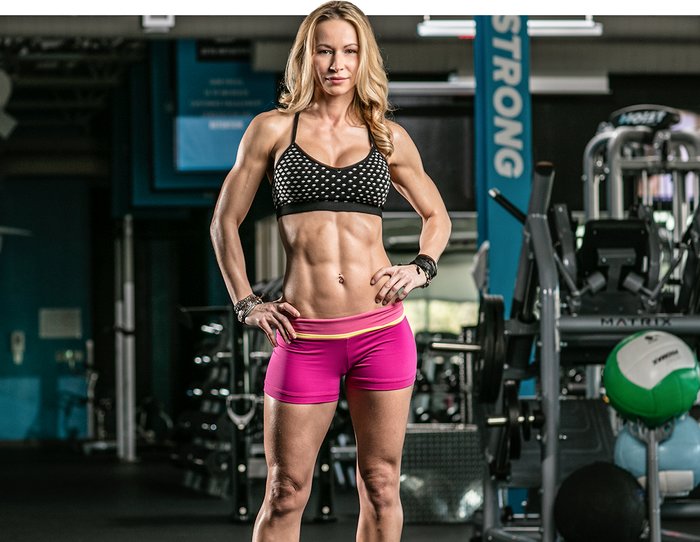 I based my workouts on moves I could perform anywhere, because we couldn't afford gym memberships. Almost all of the workouts I found online were either bodybuilding-style and directed toward men, or yoga-oriented for women. Neither of these suited my goals of burning body fat and adding lean muscle, so I invented my own training style, taking a few elements from an upstart movement called CrossFit, others from Tabata training, and adding my own unique twist to every influence I liked and thought would be effective.
Sure, some of my YouTube viewers were guys tuning in because they liked to watch a woman work out. But women constituted 90 percent of my audience. Despite our remote locations and low-tech approach to making fitness videos, my workout videos became a global fitness sensation. Millions of BodyRockers were doing my workouts every day and posting their fat-loss stories online. So I kept it up; I posted a video of my workouts each day, and poured my heart, soul, and sweat out on camera, making each workout more intense than every other at-home workout program. My fans loved the outdoor setting of the videos we shot in Malta. Malta helped us in other, unexpected ways. Uploading a video to the Web took six hours on this remote island. The longer the video, the longer it took us to upload it. To save uploading time, my workouts became shorter and more intense, until I distilled them to 15 minutes of fat-burning moves done in nonstop fashion. Rest came only after the workout ended.
I think part of my appeal was that I didn't bark orders or emphasize counts as some fitness personalities do. I didn't tell people what to do. I merely performed my workouts from start to finish, grunting and sweating along with viewers who were in it with me every rep of the way. There was a realness to these YouTube workouts that many at-home fitness programs don't provide.