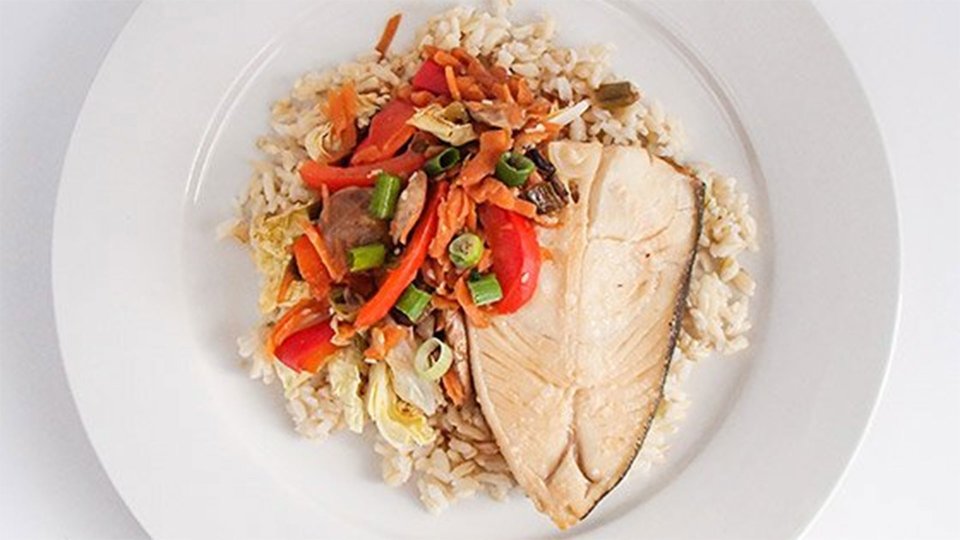 This halibut recipe is a great way to keep your calories low while taking the flavor profile of your diet to an all-time high. The addition of the orange zest sets this recipe apart and takes the dish to a whole new level and helps ensure that it is one that you will come to love.
Ingredients
1 head bok choy
1 red bell pepper, chopped
1 carrot, shredded
1 cup mushrooms, sliced
12 oz halibut
1 dash black pepper
3 green onion, sliced
1 tsp orange zest
1 tbsp sesame seeds
3 tbsp light soy sauce
1½ tsp rice vinegar
1½ tsp sesame seed oil
2 tsp ginger root
1 clove garlic, minced
Directions
Combine soy sauce, rice vinegar, sesame oil, ginger root, and garlic.
In a large parchment bag, combine the vegetables, fish, and sauce.
Bake in the oven for 15 minutes at 400 degrees F.
Once finished, remove and serve on top of a brown rice pilaf.