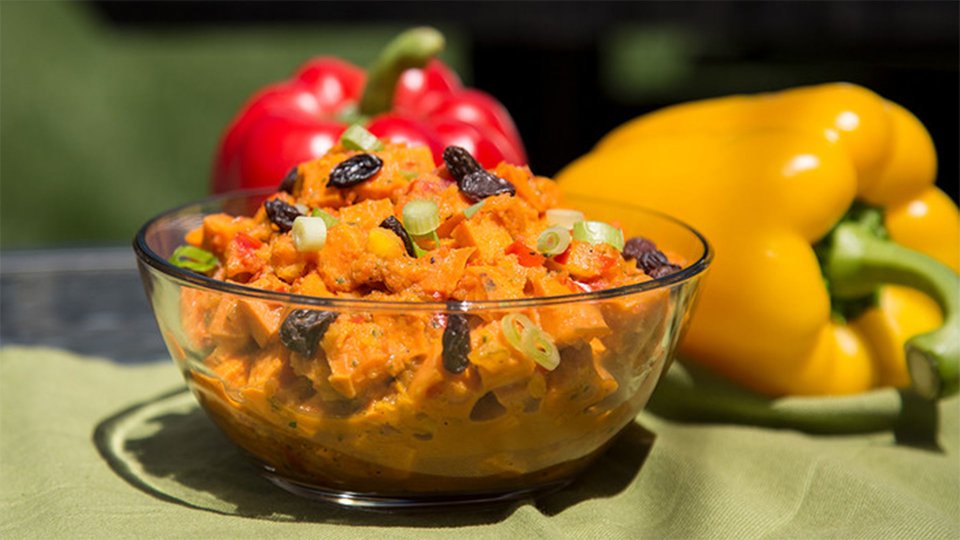 Loaded with saturated fat and chock-full of calories, regular potato salad is one of the worst side dishes you can choose. Lighten up with this version using sweet potatoes. A refreshing spin on a classic favorite, it's sweet and spicy and works perfectly alongside any main protein offering.
Ingredients
3½ cup sweet potato, cut into cubes
¼ cup olive oil
1 tbsp balsamic vinegar
½ tbsp honey
salt and pepper to taste
1 whole diced red bell pepper
1 whole diced yellow bell pepper
1 tsp cumin
½ tbsp orange zest
1 green onion, sliced
1 cup mint leaves
1 cup raisins
Directions
Preheat the oven to 400 degrees F.
Drizzle 2 tablespoons of olive oil over the potatoes, and add salt and pepper to taste. Place in the oven and bake for 25 minutes.
Blend together the remaining oil, vinegar, honey, peppers, cumin, orange zest, and mint leaves.
Once potatoes are cooked, toss with dressing. Then sprinkle the green onions and raisins over top. Serve immediately.