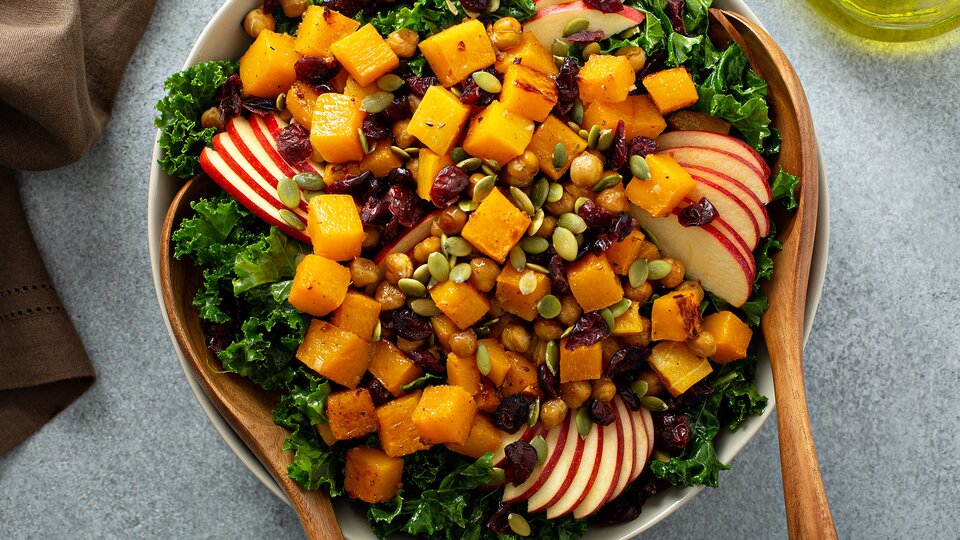 It's hard to stay healthy during the holidays when everyone else seems to be indulging. Celebrating with friends and family is important, but how do you do it without ruining your diet? This healthy holiday recipe is designed to excite your tastebuds while eliminating the guilt. Enjoy!
Salad Ingredients
3 lbs butternut squash, peeled, seeded, and cubed to yield 3 cups roasted
1 tbsp extra virgin olive oil
salt and pepper to taste
1½ apples, sliced thin
½ cup pecans, chopped
½ cup gorgonzola cheese
¼ cup dried cranberries
2 lb kale, washed and drained
Dressing Ingredients
3 tbsp extra virgin olive oil
2 tbsp balsamic vinegar
1 tbsp dijon mustard
salt and pepper to taste
2 tsp honey
Directions
Preheat the oven to 400 degrees F.
Toss the squash cubes with salt, pepper, and 1 tablespoon of olive oil.
Arrange the squash on a sheet pan in a single layer and roast for 25-30 minutes, until tender. Cool.
In a small bowl, whisk the mustard and honey to create a paste.
Add the vinegar. Mix to incorporate.
Slowly drizzle in 3 tablespoons of olive oil, whisking vigorously. Add salt and pepper to taste.
In a large salad bowl, toss the kale with half the dressing. Make sure to toss for a few minutes to allow the acid to break down the kale leaves.
Arrange the roasted squash and remaining ingredients over the top of the kale and drizzle with the remaining dressing.