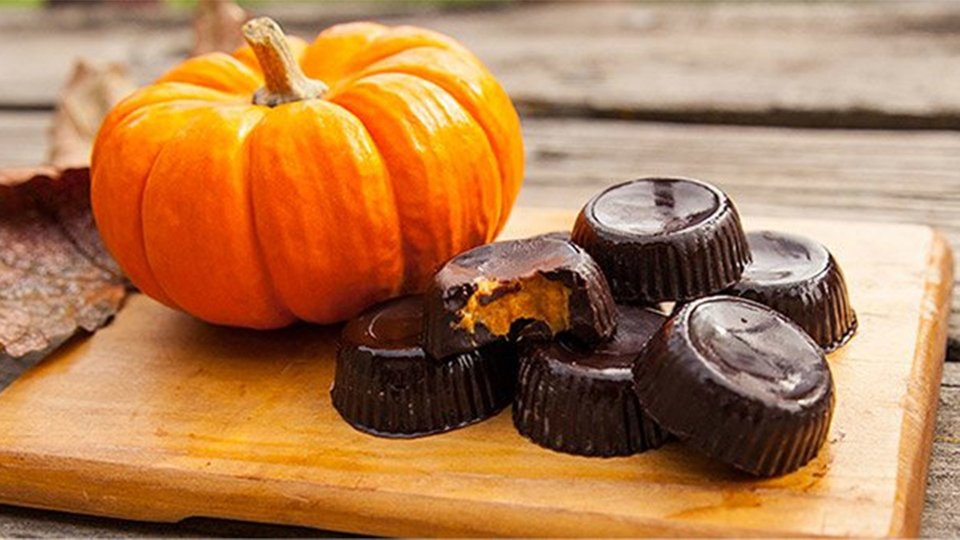 Peanut butter cups: delicious. Pumpkin: equally tasty. What could be better than having both of these things in one day? Having them both in one meal, of course! Create the perfect treat with this recipe from IFBB Physique pro Alex Carneiro.
Ingredients
¼ cup cocoa powder, unsweetened
¼ cup coconut oil
2 tbsp splenda
2 tbsp pumpkin puree
2 tbsp smooth peanut butter
½ scoop optimum Nutrition Gold Standard 100% Whey, Pumpkin Pie
⅛ tsp pumpkin pie spice
1 tbsp water
Directions
Stir the cocoa powder, coconut oil, and sweetener together until they form a sauce. Fill the bottom of cupcake liners or candy molds with the sauce, and save the rest of the mixture. Freeze the liners for 10 minutes.
While freezing, mix the remaining ingredients. Add water one tablespoon at a time until the mixture forms a paste. Take the liners out of the freezer, and top with one teaspoon of pumpkin mixture.
Add one more layer of the chocolate mixture, and put liners back in freezer for 10 minutes.
Remove, let sit for 3 minutes, and enjoy!