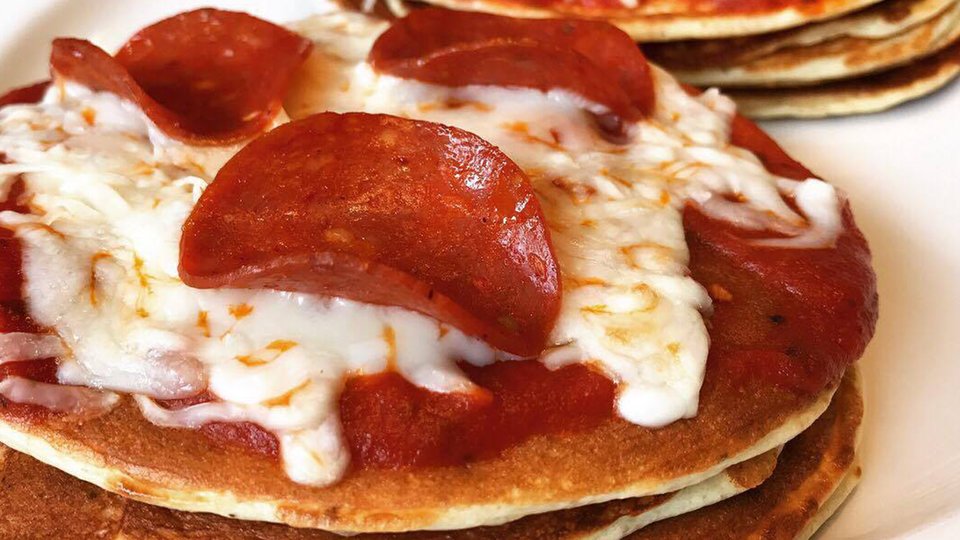 I know what you're thinking—"Pizza for breakfast?" What was once a college necessity is now a savory alternative to the traditional syrup-soaked meal.
Pancakes Ingredients
2 whole egg
46 g egg whites
150 g nonfat plain Greek yogurt
2 tbsp coconut cream
20 g pro JYM (Tahitian Vanilla Bean)
10 g coconut flour
1 tsp baking powder
1 tsp pizza seasoning
Pizza Ingredients
15 g turkey pepperoni
15 g fat-free mozzarella cheese
15 g part-skim mozzarella cheese
40 g pizza sauce
Directions
Preheat griddle on medium.
Combine all pancake ingredients and mix well.
Cook batter until bubbles appear on surface, then flip.
On a greased baking sheet, arrange two stacks of four pancakes.
Top each stack with pizza sauce, cheese, and pepperoni slices.
Place baking sheet under broiler and cook stacks until cheese melts. Keep a close eye on the stacks to prevent burning.
Serve immediately.