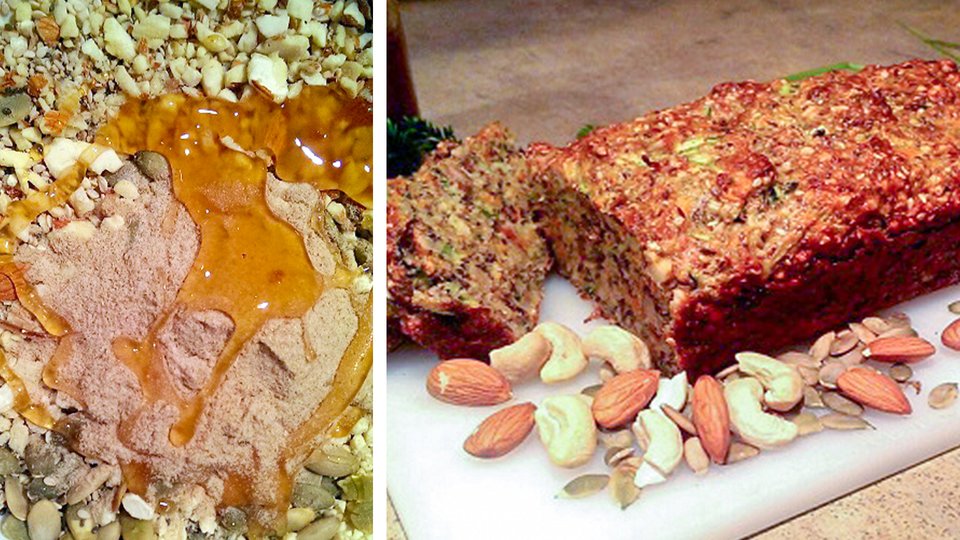 Grab your spear and fur cape—it's time to head back to your caveman roots. Try this easy, delicious Paleo-inspired bread recipe. It's so good you might just be inspired to hunt a mammoth!
Ingredients
¼ cup ground almonds
¼ cup cashews, crushed
¼ cup walnuts, chopped
¼ cup macadamia nuts
1 tbsp black chia seeds
2 tbsp pumpkin seeds
½ zucchini, sliced
1 carrot, shredded
1½ tbsp psyllium husk powder
1½ tbsp olive oil
4 egg
2 tbsp honey
2 tsp baking powder
Directions
Preheat oven to 350 degrees.
Blend almonds, cashews, walnuts, and macadamia nuts into a coarse mixture.
Mix nut mixture and the rest of the ingredients in a large mixing bowl.
Line a loaf pan with olive oil or coconut oil spray.
Pour batter evenly into the loaf pan.
Bake bread for 40 minutes.
Remove bread from loaf pan and enjoy!
Fun toppings: I top the bread with almond butter and 88% cacao bar pieces (OMG), eggs and avocado, bacon and kale—the combinations are endless! For a sweeter option, you can add a mashed banana, natural unsweetened apple sauce, or any sort of fruit.