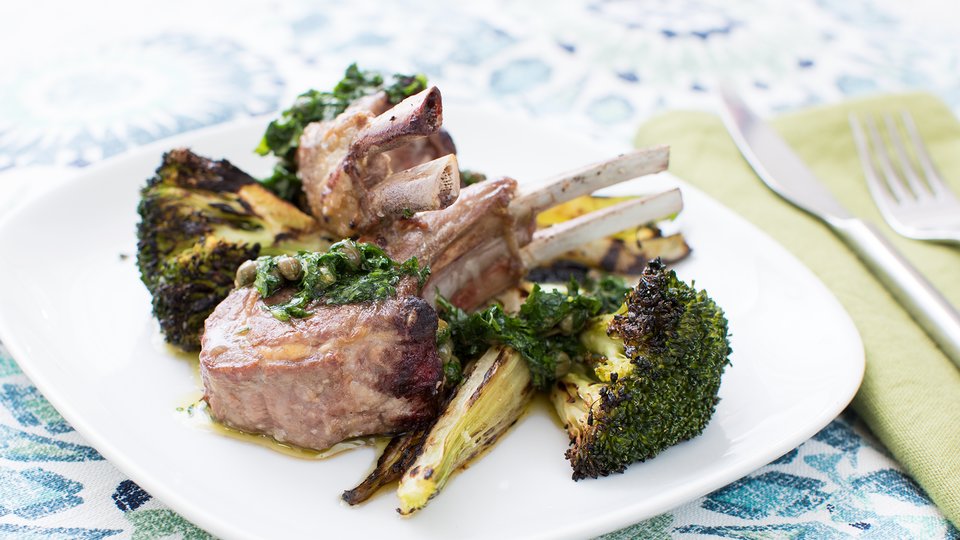 Lamb chops are delicious paired with spicy roasted fennel and drizzled with homemade parsley and caper green sauce. Roasted broccoli helps round out the vegetable quota for this dish, but you could also add roasted carrots, turnips, or potatoes for a heartier meal. For a vegan option, try grilled tempeh instead of lamb, and omit anchovies from green sauce.
Ingredients
4 6 oz. lamb loin chop
salt to taste
1 pinch pepper
½ cup flat-leaf parsley
2 clove garlic, minced
4 fillet anchovy
2 tbsp, drained capers, canned
¼ cup olive oil
2 cup broccoli
1 bulb fennel bulb, stalks removed
Directions
Preheat oven to 400 degrees F.
Season the lamb chops by rubbing lightly with olive oil and sprinkling with salt and pepper.
Heat a grill pan or grill.
Combine parsley, garlic, anchovies, capers, and olive oil to make a loose sauce that can be drizzled. Set aside.
Leave about an inch of the stem on the broccoli crowns, and cut each branch into quarters. Cut the fennel in half lengthwise, then cut each half into thirds, leaving the core intact so that the fennel stays together in six wedge shapes.
Season broccoli and fennel by rubbing lightly with olive oil and sprinkling with salt. Roast the fennel covered for about 15 minutes in a 400-degree oven, then uncover, add the broccoli, and roast together for 10 minutes.
While the vegetables are cooking, grill the lamb chops for about 4 minutes per side, or longer to taste. Serve lamb chops with roasted broccoli and fennel. Garnish liberally with green sauce.