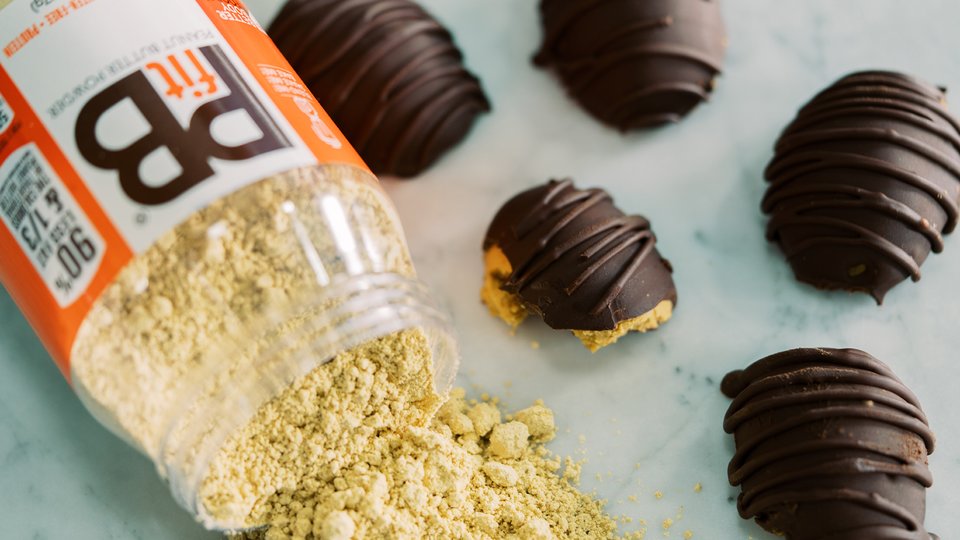 It's hard to imagine a chocolate egg that's keto-friendly, but that's just what these homemade treats deliver. Made with coconut flour and sugar-free sweeteners, they have only 6 grams of carbs per serving and look and taste as good as the real thing.
Ingredients
¾ cup pBfit peanut butter
1 tsp bBF Organic Coconut Flour
2 tbsp bBF Virgin Organic Coconut Oil
1 tbsp sugar-free vanilla syrup
Chocolate shell Ingredients
7 tbsp sugar-free dark chocolate chips
1 tbsp bBF Virgin Organic Coconut Oil
Directions
In a medium bowl, mix together the PBfit, melted oil, coconut flour, and syrup. Pour the mixture into egg-shaped molds and place in the freezer for about 30 minutes to set.
Once eggs have hardened, remove from the molds and place on a parchment-lined tray.
Melt the chocolate chips and coconut oil in a microwave on half power for 20-second intervals, stirring in between until the chocolate is melted and smooth.
Using a fork, dip the eggs into the chocolate one at a time to coat, allowing the excess chocolate to drip back into the bowl. Transfer the coated eggs back to the tray, and place the tray in the freezer for another 30 minutes or until the chocolate is set.
For added decoration, drizzle more of the melted chocolate over the finished eggs, and return to the freezer to allow the addition to set. Enjoy!