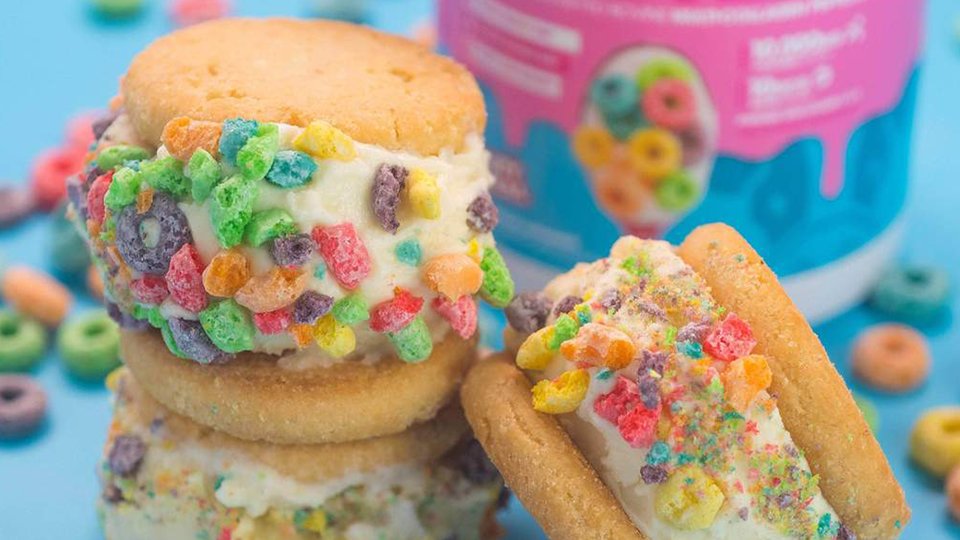 If you're lucky enough to have an ice cream maker, this DIY ice cream sandwich recipe is a fun way to add protein and pizazz to your favorite frozen treat.
Ingredients
32 oz nonfat plain Greek yogurt
12 fl oz canned fat-free evaporated milk
1 tsp vanilla paste
2 tsp liquid Stevia
1 tsp natural butter flavoring
1 tsp xanthan gum
1 pinch table salt
Directions
Freeze the ice cream maker bowl for at least 24 hours.
In a blender, add the yogurt, milk, vanilla paste, sweetener, and butter flavor, and blend until smooth.
In a small bowl, whisk together the protein, xanthan gum, and salt. Slowly add the dry ingredients to the blender and keep blending until smooth.
Put the frozen ice cream bowl into the maker and pour in the ice cream mixture. Use the stir or churn setting and mix until the ice cream reaches a soft consistency.
Transfer the ice cream into a container. Cover and freeze for 3-5 hours.
Scoop the ice cream onto a cookie, add a top cookie, and roll the sides in crushed cereal. Repeat till you have used up the ice cream.
Additional ingredients: Fruity cereal for topping (optional), crushed, healthy cookies of choice.
Note: Enjoy immediately or cover and store in the freezer for up to 1 week.