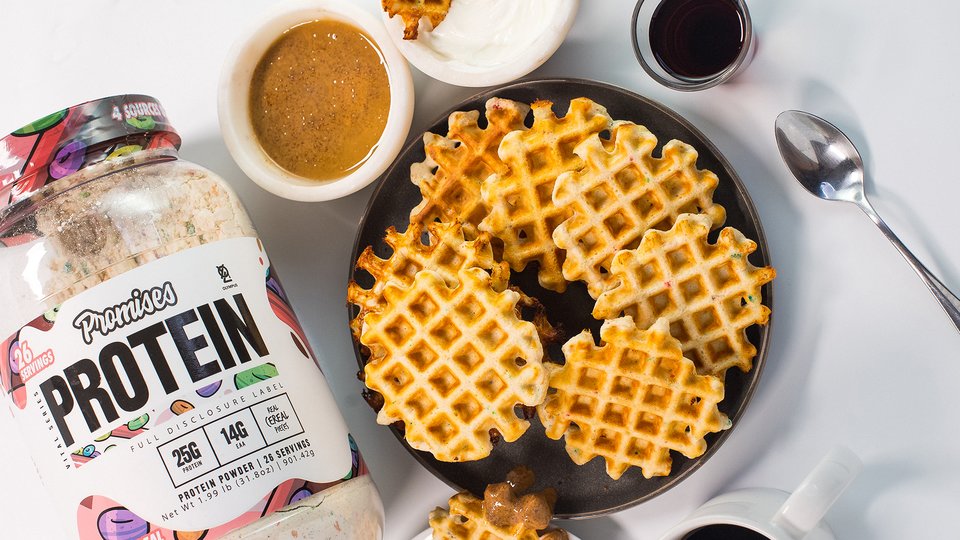 Finally! A healthy protein powder recipe that combines your favorite cereal with the cozy warmth of homemade waffles. Get your breakfast fix in a unique and delicious way with a fruity cereal protein powder that tastes like the real thing.
Ingredients
3 scoop(s) Olympus Promises Protein, Fruity Cereal
4 egg
¾ cup unsweetened applesauce
2 tbsp coconut oil
1 tsp vanilla extract
1 tsp baking soda
1 cup tapioca flour
1 pinch cinnamon
1 pinch table salt
Directions
Preheat a waffle iron. Whisk together the eggs, applesauce, coconut oil, and vanilla extract and set aside.
In a separate bowl, whisk together the tapioca flour, protein powder, baking soda, cinnamon, and salt.
Add the dry ingredients to the wet ingredients and mix well to combine.
Grease the waffle iron and pour in about 1/4 cup of batter.
Cook until crispy, and repeat with the remaining batter.
Serve with nut butter, Greek yogurt, or sugar-free syrup.