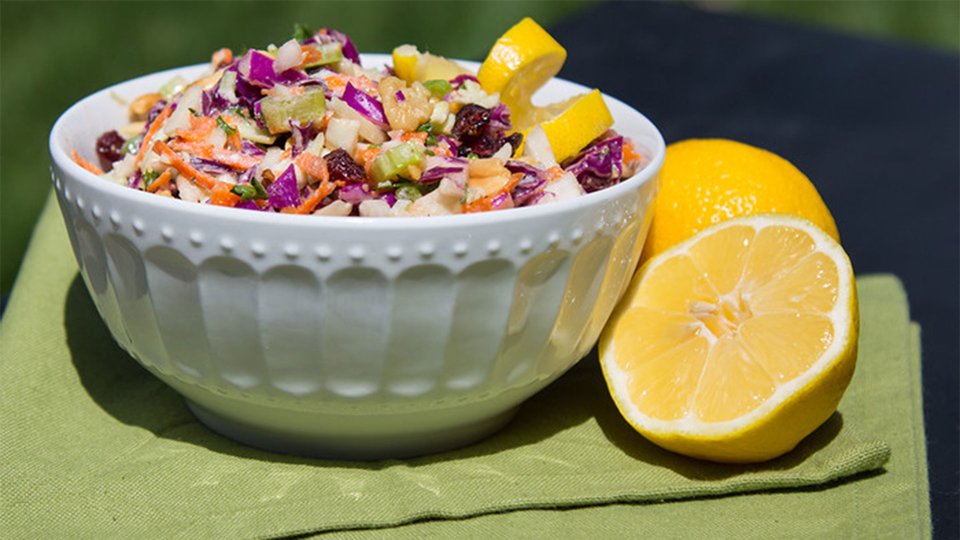 Coleslaw is a common hit among the barbeque crowd because it pairs well with just about any meat you happen to grill up. The following recipe uses a delicious sweet lemon dressing rather than mayonnaise. It also calls for you to add nuts for crunch and flavor. You'll never want to go back to the high-fat version!
Ingredients
2 cup, shredded purple cabbage
2 cup, shredded green cabbage
1 cup carrot, shredded
2 stalk celery, finely diced
¼ cup flat-leaf parsley
2 tbsp dried cranberries
2 tbsp almonds, slivered
2 tbsp walnut, pieces
2 tbsp peanut, pieces
¼ cup olive oil
2 tbsp lemon juice
1 tbsp nonfat plain Greek yogurt
1 tbsp honey
1 clove garlic, minced
salt and pepper to taste
Directions
Combine the olive oil, lemon juice, Greek yogurt, honey, garlic, and salt and pepper.
Toss together the cabbage, carrots, celery, and parsley.
Drizzle dressing on top, and toss one more time.
Top with walnuts, peanuts, almonds, and cranberries. Toss and serve.