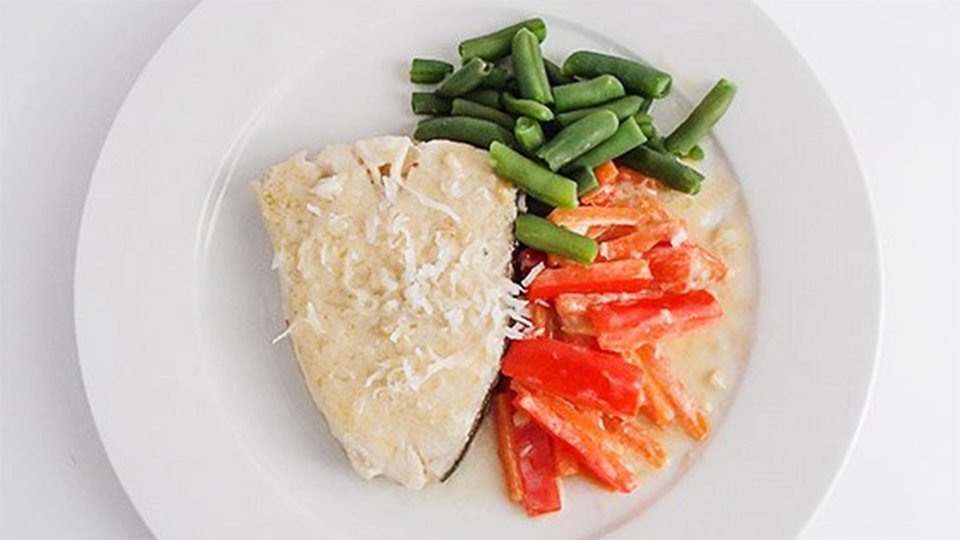 Pair the muscle-building power of halibut with heart healthy coconut. It's a win-win. In addition to the star protein, you'll get the benefits of coconut, which includes a slight boost to your metabolic rate to give you extra energy as you head into your day.
Ingredients
1 tsp coconut oil
2 clove garlic, minced
2 tsp ginger, minced
1 cup coconut milk
½ tsp thai green curry paste
6 oz halibut
1 red bell pepper, sliced
2 carrot, shredded
2 tbsp lime juice
2 tbsp coconut flakes
4 cup 1/2" pieces green Beans
Directions
In a large skillet, cook the garlic, ginger, and coconut oil for about 30-60 seconds.
Add in the coconut milk (preferably full fat, however light can be used if watching your calorie intake) and curry paste.
Bring to a boil, and then reduce heat to simmer.
Add fish, sliced red pepper, and carrots. Cook for 4 minutes, flip fish, and then cook for another 2-3 minutes or until fish flakes easily.
Remove fish and vegetables from the skillet with a slotted spoon. Allow the sauce to continue to simmer for about 6-8 minutes or until thickened.
Add in lime juice and spoon over the fish.
Top with dried coconut flakes. Serve alongside steamed green beans.