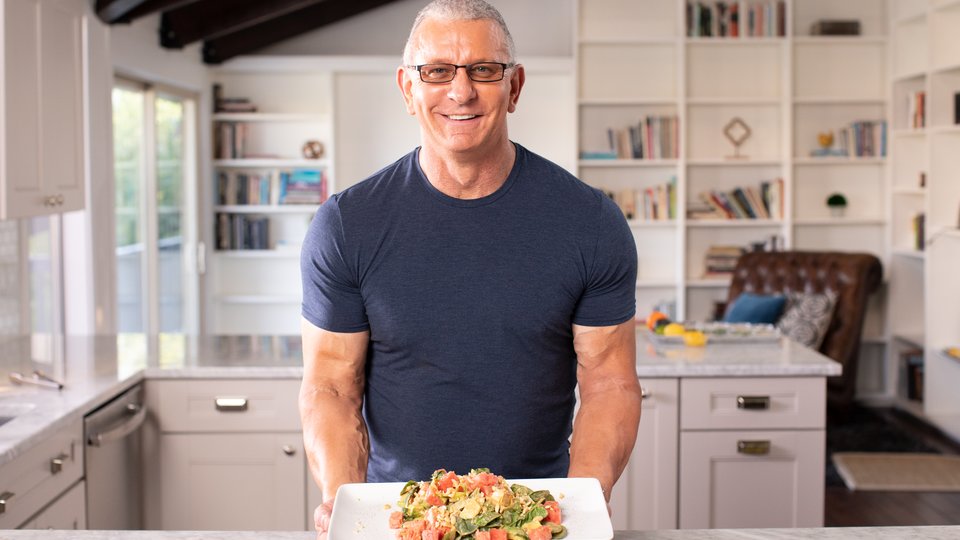 Chef Irvine takes simple watermelon and transforms it into a sweet, spicy, savory salad that will knock your flip-flops off. It's a perfect way to get your protein on a sweltering summer day!
Ingredients
1 cup spinach
½ cup green lentils, cooked
½ fruit, without skin and seed avocado
1 salt and pepper to taste
10 oz. watermelon
1 heart romaine lettuce
Sriracha Dressing Ingredients
2 tbsp Sriracha
3 tbsp fat-free mayonnaise
1 tbsp maple syrup
2 tsp grapeseed oil
1 tbsp lemon juice
Directions
In a small bowl, combine sriracha, mayonnaise, maple syrup, and oil, and whisk together. Add lemon juice and briefly whisk again.
Cut off the thick, white bottom end of the head of Romaine lettuce. Slice the next few inches of lettuce into half inch slices, setting aside the leafy upper part of the lettuce for another meal.
In a large bowl, combine Romaine slices with spinach and watermelon.
Drizzle most of the sriracha dressing on top of watermelon and greens mixture and toss together.
Add lentils and avocado to salad; toss again.
Salt and pepper to taste, top with nuts if desired, and serve.