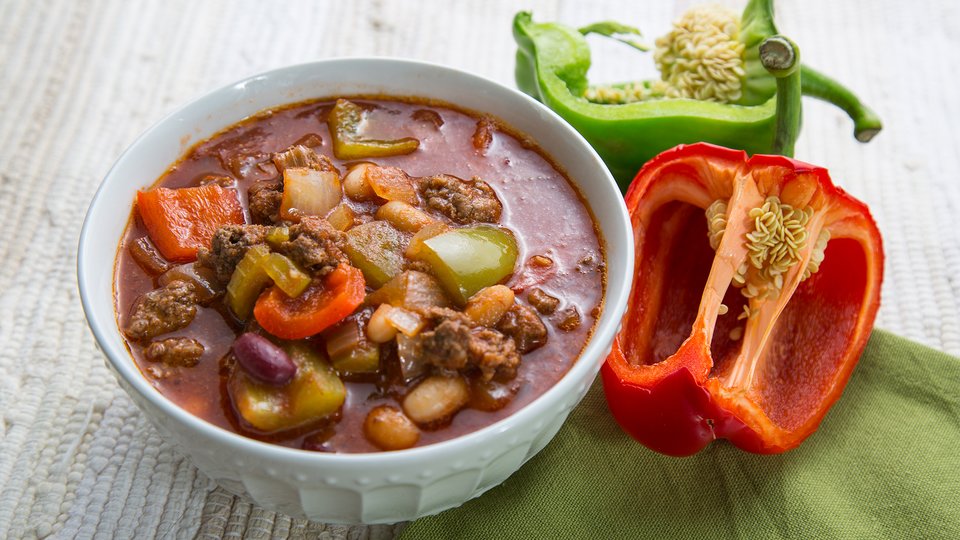 Chili warms the heart and provides your muscles with all the nutrition they need in one dish. This chili is loaded with complex carbohydrates from the beans and low in fat thanks to the use of bison instead of beef. You'll find yourself making it time and time again!
Ingredients
1½ lb bison, ground
1 14 oz can white beans, canned
1 14 oz can kidney beans, canned
1 28 oz can tomato sauce, canned
1 cup water
1 whole red pepper, thinly sliced
1 whole yellow pepper, cut into strips
1 whole green pepper, cut into strips
2 whole stalk celery, finely diced
2 whole onion, finely diced
3 tbsp olive oil
4 clove garlic, chopped
salt and pepper to taste
1 tbsp chili powder
Directions
1. Heat 1 tablespoon of the olive oil in a skillet over medium heat.
2. Add half the garlic and the bison. Stir until bison is no longer pink.
3. Transfer bison mixture to a slow cooker. Set cooker to low and cook for 3 hours.
4. After 3 hours, heat the remaining olive oil in skillet.
5. Add the rest of the garlic and sauté.
6. Add vegetables to garlic and sauté. Salt and pepper to taste.
7. Transfer vegetable mixture to the slow cooker.
8. Add the beans, tomato sauce, and water.
9. Stir in the chili powder and additional salt and pepper to taste. Cook for 3 more hours on low heat.
10. Ladle into bowls and serve.