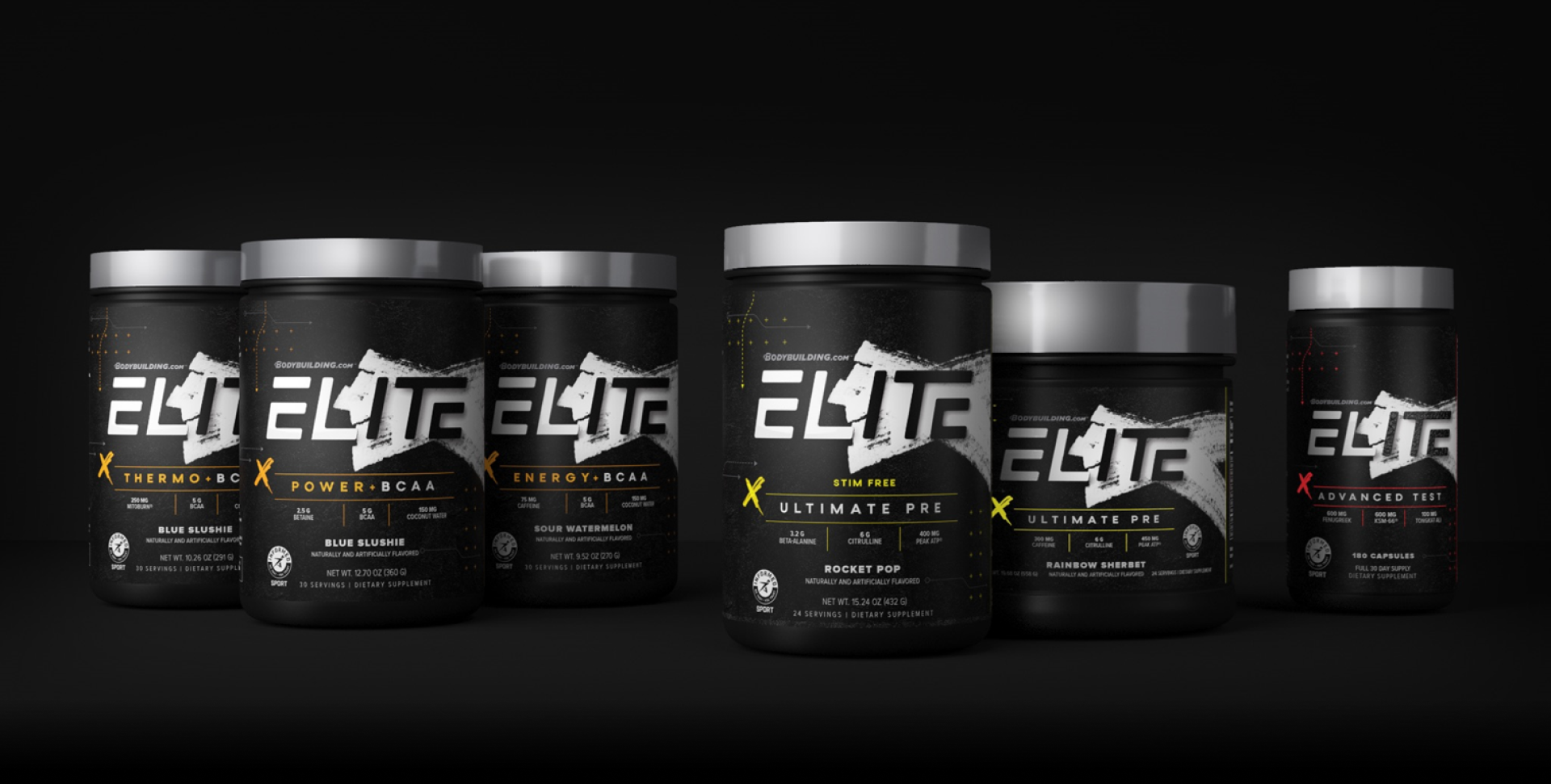 Bodybuilding.com ELITE is scientifically formulated with the highest quality ingredients, 3rd party lab tested, banned substance free, and Informed Sport certified. Which gives you confidence in choosing ELITE for training and competition.
Shop Elite Now
Each product features advanced formulas with trademarked, clinically tested ingredients at proven dosages to

Enhance Performance

Build Strength
Increase Power

Lift You To The Next Level
Benefits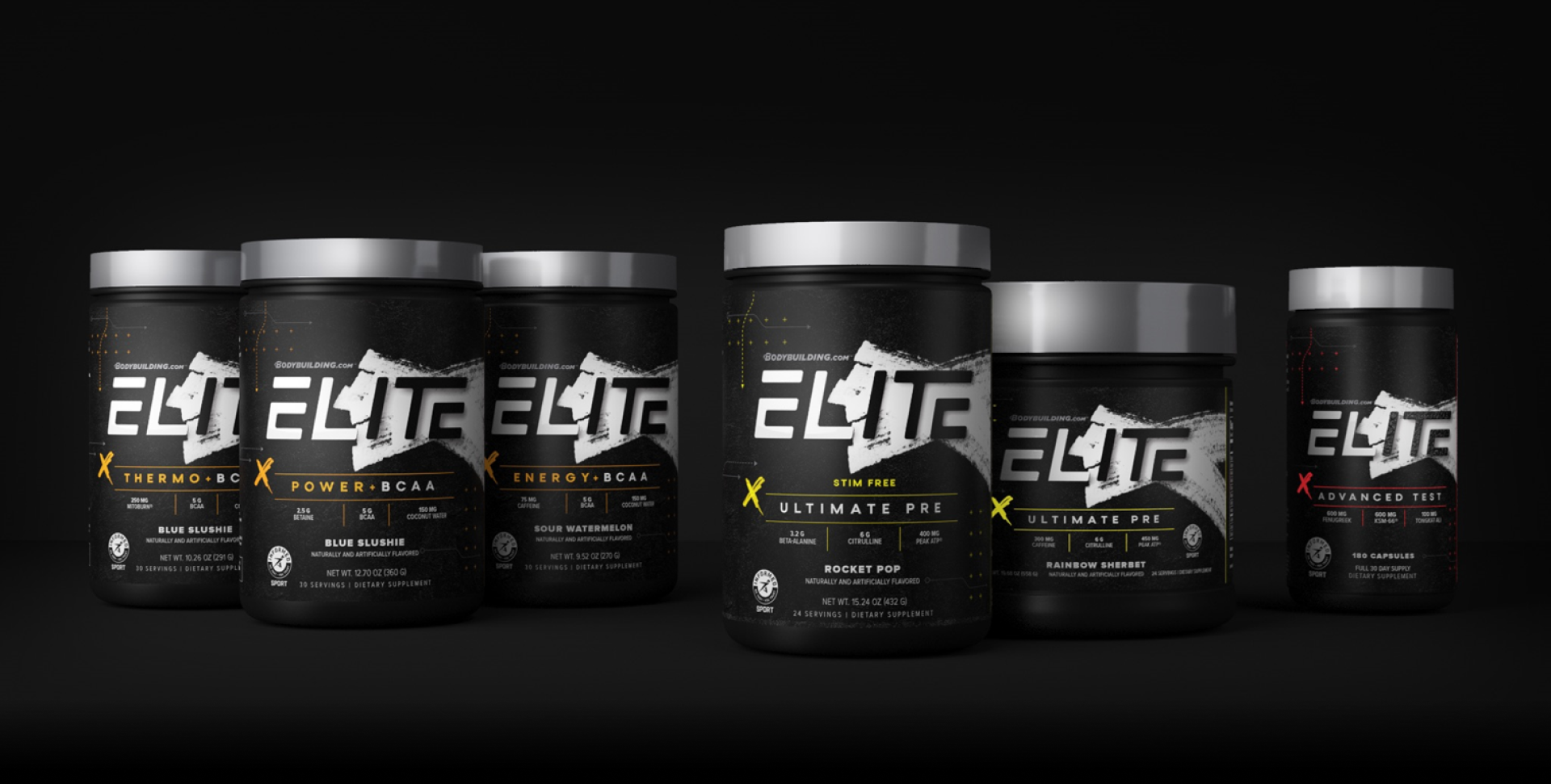 Premium Formulas
Transparent Fact Panels
High Quality Ingredients
Innovative Flavor Systems
Goal Focused, Targeted Formulas
Clinically Backed, Trademarked Ingredients
Banned Substance Tested
Informed Sport Certified
Shop Elite Now
Elite Ultimate

Pre-Workout

Informed Sport Certified & Banned Substance Tested
5 Scientifically Researched, Trademarked Ingredients + Caffeine

Enhances Intensity, Focus, Energy & Muscle-Swelling Performance

New Flavors

I'm a big pre-workout person and I typically mix my pre-workout with other supps like creatine and pump so strong flavor to make sure my mix doesn't get chalky is a MUST. This hits the spot and helps keep me going throughout the entire workout. #teambodybuildingcomathlete
17eschulman ★ ★ ★ ★ ★

Excellent flavor and ingredient profile. Not typically a rainbow sherbert fan, but the subtle flavor is perfect for starting your workout on hot days. The ingredient profile is impressive, and most importantly for me the ingredients are Informed Sport Certified & Banned Substance Tested so that I do not have to worry about getting tested during my Ironman events! #bodybuildingcomathlete
chelseaashae ★ ★ ★ ★ ★

Gives me the energy and focus I need without the crash! #teambodybuildingathlete
Adamharlan ★ ★ ★ ★ ★

Bodybuilding.com provided me with this product and I was not disappointed! This is the best tasting pre workout I have ever tried. Energy without the gitters!!
MaKayla B ★ ★ ★ ★ ★
Elite Stim-Free

Ultimate Pre-Workout

Informed Sport Certified & Banned Substance Tested
Maximize training wIthout caffeine

Increases blood flow & endurance with citrulline, beta-alanine and Nitrosigine® (Inositol-Stabilized Arginine Silicate)

New flavors

Works great, tastes blah. I'm caffeine sensitive and was never a big pre-workout guy because of that. Full transparency, not a huge fan of the rocket pop flavor, but the pump I had while taking this was great. I look forward to trying new flavors as they come out. #teambodybuilding Athlete
GavinD ★ ★ ★ ★ ★

Don't usually take preworkout because I don't like the feeling, but with this stim free pre, I was able to feel the effects without the jitters! #Teambodybuilding Athletee
Coachnikkid ★ ★ ★ ★ ★

This is without a doubt my favorite product from the new elite line. I'm not a big stimulant person so the citrulline and the beta nine mix here is perfect to get my vascularity and pump going for the work out, as well as keeping the muscle endurance up during the workout. The rocket pop flavor, taste, great, highly recommend mixing a little bit of ice with it in order to really bring the flavor out! This is going to be a staple in my workout regiment moving forwar
Luis E ★ ★ ★ ★ ★

As a person who typically enjoys high stim pre workouts I normally don't enjoy non stim versions but the Elite series Stim free pre workout actually gives a sense of alertness without the tingly sensations of the high stim counter parts which is perfect for those days where you just need a little boost but not too much. The flavor is great as well!
Gipz ★ ★ ★ ★ ★
Elite Power

+ BCAA
Promotes Power, Strength, and Endurance

Features 3 Scientifically Researched, Trademarked Ingredients

Informed Sport Certified & Banned Substance Tested

New Flavors

Good flavor & mixes well. Love the addition of coconut water for extra hydration. Having my creatine & BCAA in one supp makes it so much easier. Currently one of my favs as a #TeamBodybuilding Athlete.
WinnieYu ★ ★ ★ ★ ★

Love that BB.COM created a product with creatine and BCAAs - reduces time spent on my gym prep routine! #Teambodybuilding athlete
Coachnikkid ★ ★ ★ ★ ★

Good taste, happy with results
vader9 ★ ★ ★ ★ ★

Forget regular BCAAs. Take this instead! My workouts are usually an hour and a half to two since switching to powerlifting. And I get sluggish and tired, but taking this infra workout prevents that! Loving it!
eliasartrod12 ★ ★ ★ ★ ★
Elite Energy

+ BCAA
Promotes tunnel vision, focus, energy, and endurance

Features 3 Scientifically Researched, Trademarked Ingredients

Informed Sport Certified & Banned Substance Tested

New Flavors

This supp is perfect to upgrade your hydration and give you a boost throughout the day. Saves me a ton of money on energy drinks too
17eschulman ★ ★ ★ ★ ★

Finally a BCAA supplement that has caffeine, but only the amount of a cup of coffee. Great product when you want a little extra boost. #Teambodybuilding Athlete
Coachnikkid★ ★ ★ ★ ★

As a #Teambodybuildingathlete I was granted the opportunity to try the Elite series BCAA + Energy supplement! I'm honestly not a big BCAA supplement user but with the addition of energy and the amazing flavors they offer, I've been converted!
Gipz ★ ★ ★ ★ ★

I don't normally take pre workout because the dosage gets me too jittery. But having a smaller dose of caffeine at 75mg perfect especially when mixed with BCAA to help with my recovery. Currently using it often as a #TeamBodyBuilding athlete
WinnieYu ★ ★ ★ ★ ★

Be the first to hear about new ELITE product drops and special Bodybuilding.com promotions