Register: Anytime
Enter Daily Challenges: Dec. 1-30
We're Giving Away $1,500 A Day!
Every Day, 3 Entrants Will Win $500 Each
How it works:
WE'RE GIVING AWAY $1,500 A DAY!
During the #30DaysOfFit Challenge, not only will you get the motivation you need to power through holiday temptations and set yourself up for New Year's success, but three people every day will win $500 each!
REGISTER TO WIN
We have to be able to contact you if you win!
JUMP IN ANYTIME
If you discover this challenge after December 1, that's okay. Start on the current day and keep going! Miss a day? Just start again. The more you participate, the more you could win!
CHECK YOUR EMAIL
Weekly challenge emails lay out the week's daily challenges and include big savings and great advice from Dymatize and their team of athletes.
DOWNLOAD YOUR CALENDAR
This overview of all 30 days will give you a chance to plan ahead and get creative! PRINTABLE PDF | IMPORT TO CALENDAR
POST DAILY
Post your response to our daily challenges on Instagram and tag #30daysoffit @bodybuildingcom @dymatize
How does the contest work?
From December 1-30, Bodybuilding.com and Dymatize will issue a daily challenge.
Post proof of yourself achieving the challenge on Instagram
Tag your post #30daysoffit @dymatize @bodybuildingcom
Challenges can be found on printable calendar, weekly emails, and social media
Three participants per day will win $500 each
How do I register?
You must register in order to participate by filling out the form on this page. In addition to your BodySpace name and email, you will be asked to provide your Instagram handle so that we are able to contact you if you are a daily prize winner. You will receive weekly emails containing the upcoming week's challenges, previous week's winners, useful content.
Is the Challenge free?
Participation in the 30 Days of Fit Challenge is absolutely FREE!
How and when will winners be chosen?
Winners will be chosen daily and the previous week's winners will be updated on the site as they are chosen.
Is this contest open to U.S. residents only?
This is a global challenge! It is open to residents of the United States, Canada (except Quebec), and the European Union, and more as noted in the official Terms and Conditions.
Do I need to submit before and after pictures?
No. This is different from our usual transformation challenges. You do not need to submit any photos through BodySpace. You will be judged on your completion of daily challenges, not on changes to your physique or body composition.
How do I know if I successfully signed up for the weekly emails?
You will receive an email from Bodybuilding.com within a few minutes of registering. If you do not receive an email, please check your junk or spam folder.
When does the Challenge begin and end?
Your 30 Days of Fitness are December 1-30.
What if the Challenge has already started? Can I still compete?
Yes! Jump in at any time and start with that day's challenge. Do as many or as few as you'd like. But remember: the more challenges you do, the more you could win!
Do I have to complete every challenge?
No. Do as many or as few as you'd like. But remember: the more challenges you do, the more you could win!
Am I required to purchase Dymatize supplements?
You may work out, eat, and/or supplement in whatever way works for you or as prescribed by your personal trainer or healthcare provider.
Will my daily challenge pictures and videos be private?
No, all your photos will be public.
What if my email address changes during the contest?
Communications regarding the contest will be sent to the email address on file. It is your responsibility to notify us at transform@bodybuilding.com of a change.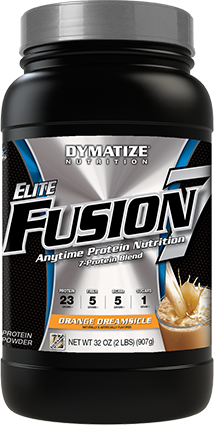 Buy One, Get One 50% Off Elite Fusion 7
2 LBS.
(Expires December 6)
1
2
3
4
5
6
7
8
9
10
11
12
13
14
15
16
17
18
19
20
21
22
23
24
25
26
27
28
29
30