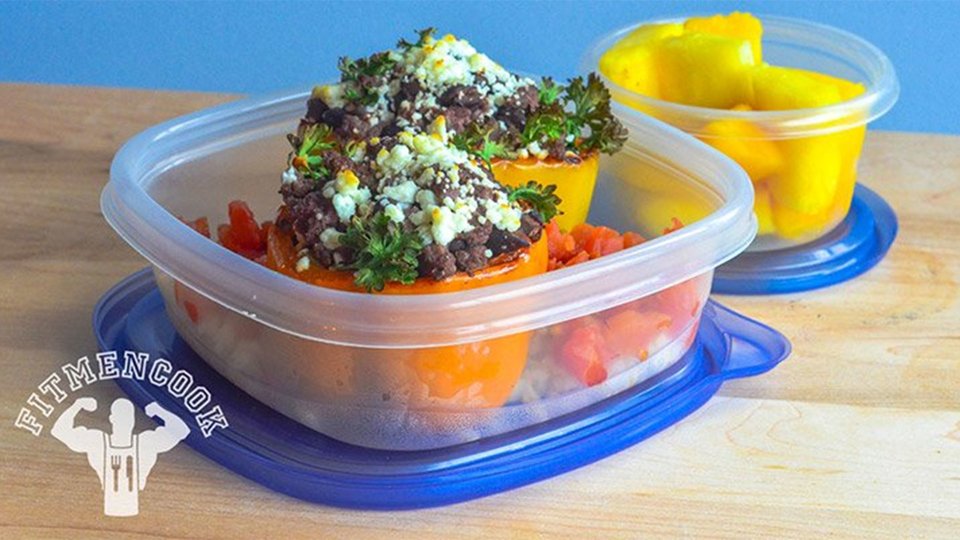 You 'mirin?! Well, if not, you should. Wild game is a fantastic protein source that's generally much lower in fat than beef and is often a better source of iron, zinc, and omega-3 fatty acids. Not sure how to cook that gamey meat? Mix it with some black beans and a little salsa, stuff it in a bell pepper, and BOOM—certified muscle-building meal.
Ingredients
6 oz wild game meat
½ cup low-sodium black beans
2 red bell pepper
4 tbsp salsa
2 tbsp goat cheese
1 tsp parsley, dried
¼ cup brown rice
Directions
Set oven to 405°F.
Cut tops off bell peppers and remove the seeds inside.
Spray a baking sheet and place the bell peppers on the sheet with the open-side facing down. Bake for 10-12 minutes.
Lightly spray a skillet with coconut oil and place on medium heat. Add the diced onions.
Add ground wild game meat to the skillet. When the meat is nearly finished, add in beans, fresh parsley, 2 heaping tbsp of pico de gallo, salsa, or diced tomatoes. Mix with a spatula.
Remove the bell peppers from the oven and flip them over. Add in game and beans mixture. Top with goat cheese (or low fat mozzarella cheese) and fresh parsley (if desired).
Bake in the oven for 8-10 minutes.