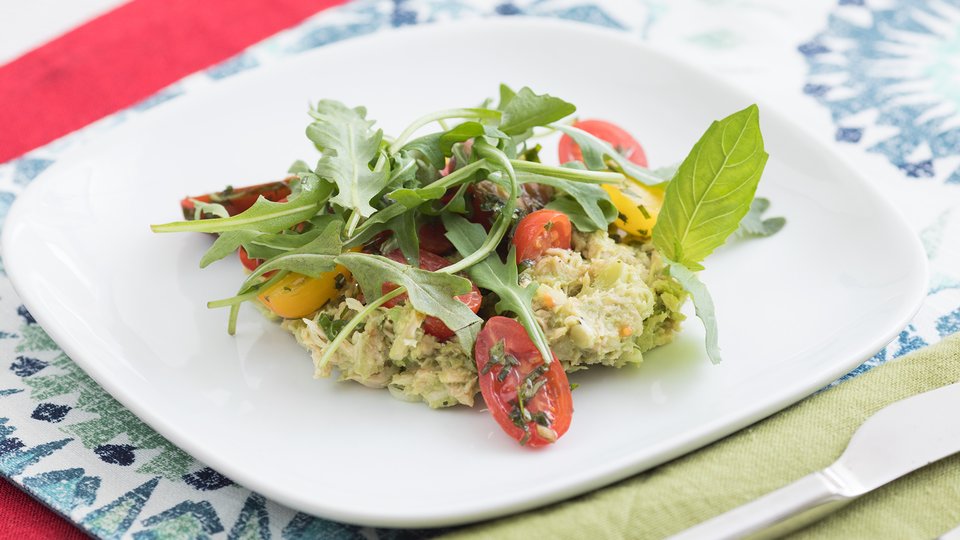 Super simple and super delicious, this tuna avocado salad takes almost no time to prepare. The richness of the avocado adds some much-needed healthy fat to the tuna, and the spicy flavor of the fresh arugula balances the sweetness of the cherry tomatoes. This salad is delicious all by itself, or serve it on top of toasted whole wheat bread for an extra hearty meal to fuel your workouts and your recovery.
Ingredients
5 oz tuna, canned in water
1 avocado
½ cup cherry tomatoes
1 cup arugula, raw
1 tbsp olive oil
Directions
Slice the cherry tomatoes in half. Halve the avocado, remove seed, and peel away the skin. Slice the avocado into 1/4-inch chunks.
Drain the tuna and place in a medium mixing bowl. Add avocado and mix with a fork so the avocado mashes up with the tuna.
Gently fold in the tomatoes.
Serve topped with arugula, and drizzled with olive oil.