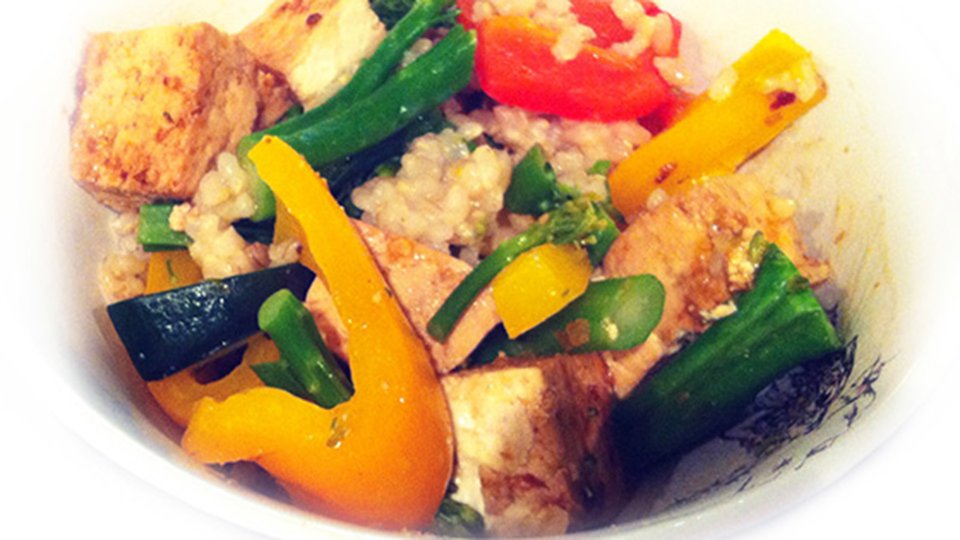 This is a great protein-packed meal I love to make for lunch during the week. I usually take whatever vegetables I have in the fridge, stir fry them with some lively spices, and add them to brown rice and tofu. Use whatever veggies you'd like—below are my usual ingredients.
Ingredients
1 block tofu, firm
2 cup brown rice
2 tbsp light soy sauce
1 tsp ginger, powdered
1 tsp garlic powder
1 tsp onion powder
1 tsp chili powder
1 cup broccoli
1 medium (approx 2-3/4" long, 2-1/2 dia.) red bell pepper, sliced
¼ cup green onion, chopped
1 tsp sriracha
Directions
Remove tofu from package and press with paper towels to absorb all excess moisture.
Chop tofu into cubes and place in large Ziploc bag.
In a large saute pan, heat olive oil over medium heat.
Add broccolini and bell pepper and stir until lightly softened.
Heat another pan to medium heat and add tofu.
Cook tofu for 5 minutes, stirring occasionally until all sides get cooked.
To serve, add 1/2 cup of brown rice and top with tofu, veggies, and green onions.