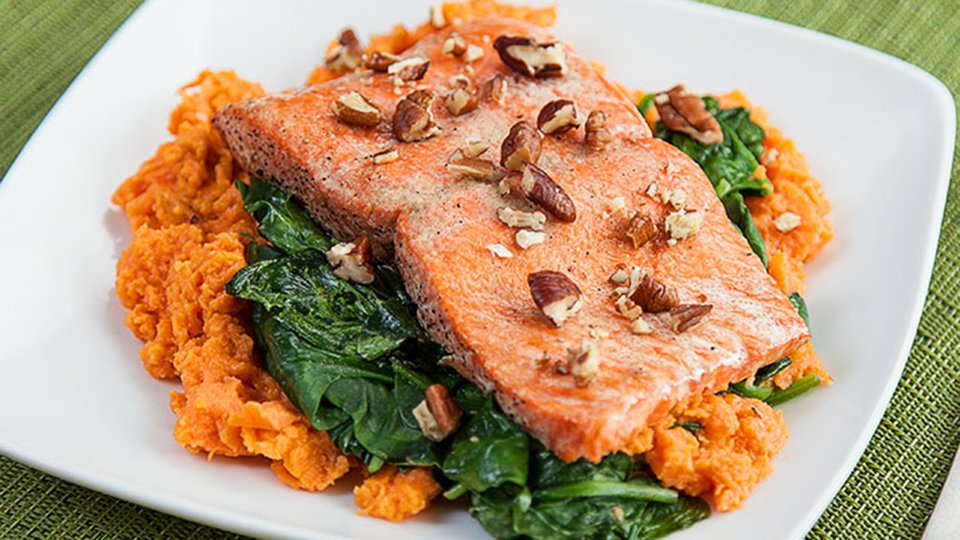 Sticking to your Lean Body Meal Plan is easy with this sweet potato salmon recipe.
Ingredients
2 whole sweet potato
2 tbsp brown sugar
½ tsp cinnamon
2 fillet salmon fillet
1 tbsp butter, without salt
⅝ cup spinach
1 tbsp olive oil
½ cup pecans
Directions
Peel the yams and cut them into large chunks. Place the in a saucepan, cover with water, bring to a boil, and cook until soft, 15 to 20 min. Remove from the heat, drain, add sugar and cinnamon, and whip with a handheld mixer until fluffy. Set aside and keep warm.
Whie the yams are cooking, heat the grill or a heavy skillet. Rinse the salmon and pat it dry with paper towels. Place it skin-side down on the grill and top each piece with half of the butter. Cook undisturbed until the salmon flakes easily, about 10 to 15 min; do not turn.
Just before the salmon is done, heat the oil in a large skillet over high heat. Add the spinach, cover, and cook, shaking the pan occasionally, about 2 min. (You want the spinach to wilt and shrink, but not become soggy.)
Place a scoop of mashed yams on each serving plate. Top with spinach. Slide a spatula between the fish and the skin, and lift off the fish. Place the fish on the spinach. (You can remove the skin from the grill and discard it after dinner.) Sprinkle with the chopped pecans and serve.