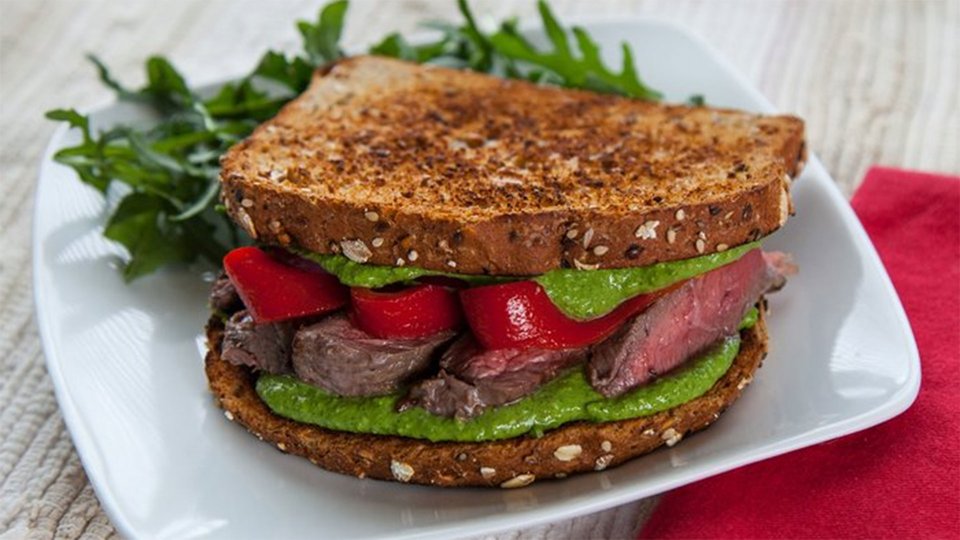 If you want to step up your pesto game, swap out those pricey pine nuts for hemp seeds to make a delicious, nutty spread to add to sandwiches. The pesto can be kept in the fridge for up to five days.
Ingredients
3 cup arugula, raw
2 clove garlic, minced
¼ cup hemp seeds
1 tbsp lemon juice
⅓ cup low-fat parmesan cheese
¼ cup extra virgin olive oil
1 lb sirloin steak
1 cup red onion, sliced
8 slice regular whole-grain bread, toasted
1 cup, chopped roasted red pepper
Directions
In a food processor, pulse together arugula, garlic, hemp seeds, and lemon juice until well combined. Add parmesan, then drizzle in oil through the top feed tube with the machine running.
Heat one tablespoon oil in a skillet over medium-high heat. Season steak with salt and pepper, place in pan, and cook for about 4 minutes per side for medium-rare, or until desired doneness. Let steak rest for 10 minutes, then thinly slice. Place red onion in a bowl of very cold water and let soak for at least 15 minutes. (This helps take some of the bite out of raw onion.)
To assemble the sandwich, spread a portion of the hemp pesto on a slice of toasted bread, then top with slices of steak, roasted red pepper, and onion. Spread more pesto on another slice of toast and place on sandwich, pesto-side down.