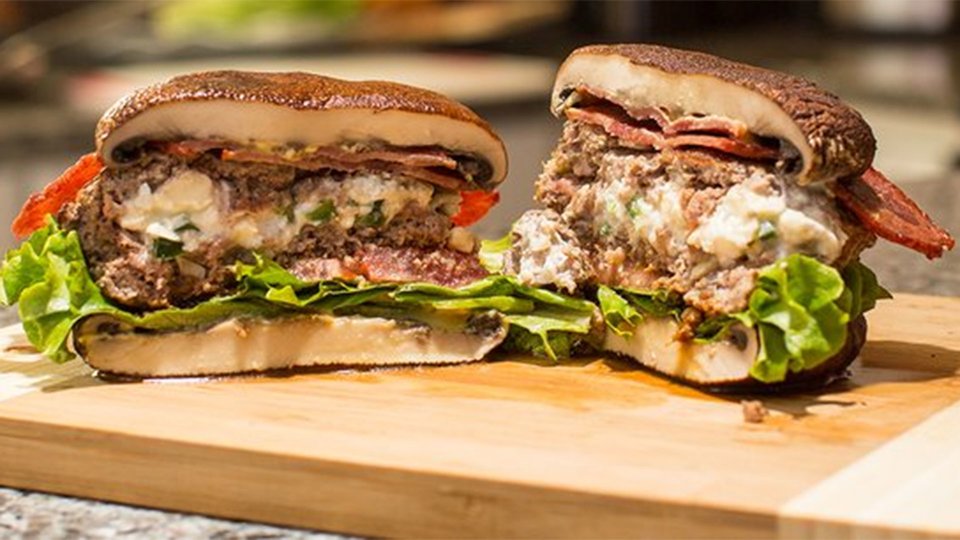 Add some kick to a protein-packed burger with this spicy take on a classic favorite.
Ingredients
1 jalapeno pepper, diced
1 tbsp 2% greek yogurt, plain
⅛ cup fat-free mozzarella cheese
1 oz goat cheese
6 oz lean ground beef
1 clove garlic, minced
½ tbsp cumin
2 piece whole portabella mushroom caps
salt and pepper to taste
1 tbsp brown mustard
2 leaf lettuce
2 slice, thick/large (1/2" thick) tomatoes
2 strip turkey bacon
Directions
Slice jalapeno in half, remove seeds, and chop.
Mix Greek yogurt, mozzarella, goat cheese, and chopped jalapeno together. Place in freezer.
Mix meat, garlic, cumin, sea salt, and ground pepper. Form patty with seasoned meat mixture and make a hole in the center using your thumb.
Add the filling from the freezer into the hole. Fold over the sides of the meat to cover the hole.
Place burger patty in skillet, brown both sides, cover, and cook to your desired readiness.
Add mustard, lettuce, tomato, burger patty, and turkey bacon to bun or Portobello mushroom cap.