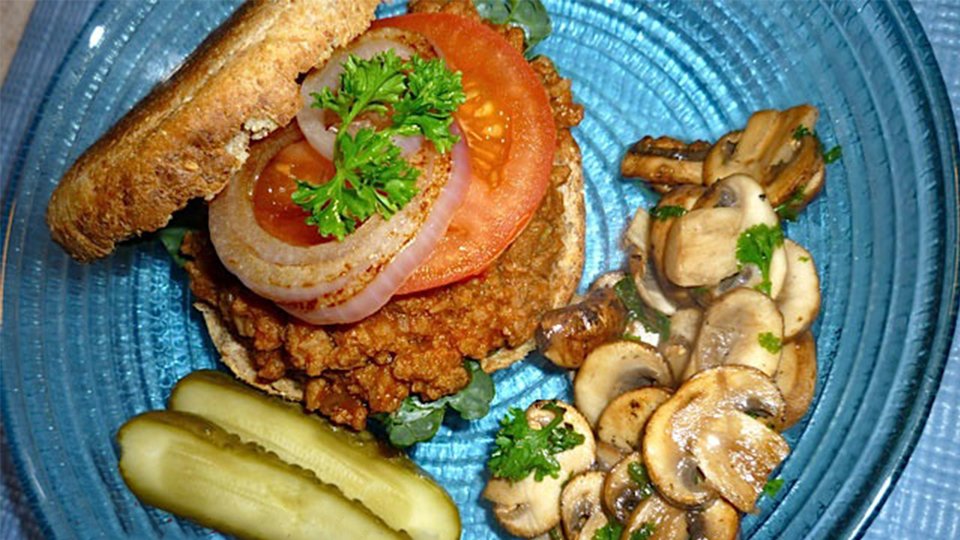 These wonderful recipes are true originals. If meat isn't in your diet, or you just need a break from it, then earn some protein points in healthy ways!
Ingredients
2 cup mushrooms, sliced
1 whole red onion, sliced
1 small whole (2-2/5" dia) tomato, diced
3 oz tomato paste
1 tsp olive oil
4 muffin english muffin
¼ cup fresh basil leaves, chopped
1 spear, small dill pickles
1 package sloppy joe mix
2 tbsp liquid smoke
Directions
In a medium sauce pan bring 1 3/4 water to a boil. Mix in tomato paste. Stir frequently. Lower heat and simmer.
Pour Sloppy Joe mix into water and tomato paste. Stir until ingredients thicken. Cover and simmer.
In a separate pan, add oil and lightly brown onions. Set aside.
In same pan, saute mushrooms with 2 tablespoons of Liquid Smoke and parsley until light golden brown.
Toast the english muffins.
Add all of the fixings and serve.