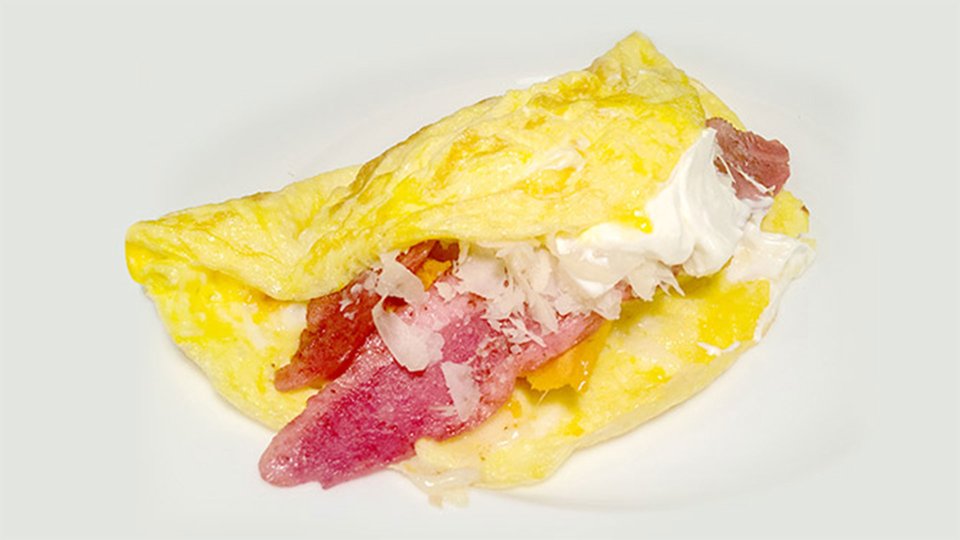 Don't knock this recipe until you try it! It's sweet, salty, and has the perfect muscle-building macros.
Ingredients
3 whole egg
1 whole sweet potato
¼ cup reduced fat cheddar cheese, shredded
1 tbsp reduced-fat sour cream
3 strip turkey bacon
Directions
Peel sweet potato and mash the flesh. Reheat it in a skillet or in the microwave.
Cook turkey bacon in a skillet to desired doneness.
Once turkey is done, scramble the eggs and pour them into a non-stick skillet set to medium heat. Cover the entire skillet surface in a thin layer of egg. Let the eggs set and then carefully flip it over.
Spread sweet potato on one side of the eggs.
Sprinkle cheese on top of sweet potato.
Place bacon on top of cheese and sweet potato.
Spread sour cream on top of bacon.
Fold eggs in half and let sit for a minute or two.
Flip omelet over and let sit for a minute or two.
Remove from heat and place on plate.
Add salt and pepper as desired and enjoy!