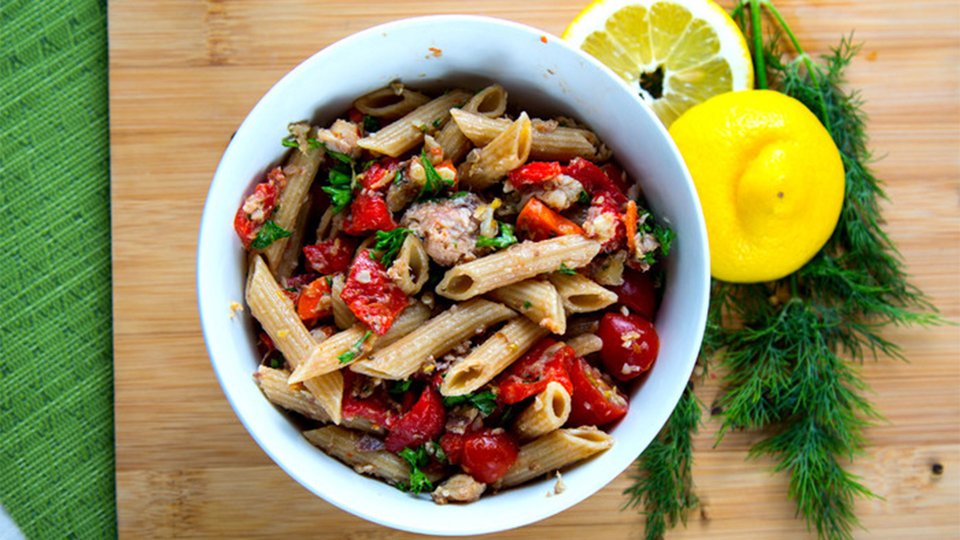 Toss together these ingredients on a Sunday afternoon and you'll be set for a week's worth of lunches that are much more inspiring than turkey and cheese sandwiches. Or use the pasta salad for a quick meal after a hard workout, since it provides a good balance of recovery nutrients.
Ingredients
1½ cup penne whole-grain pasta
16 oz sardines, canned in oil
2 cup cherry tomatoes
1 cup red pepper, roasted, thinly sliced
2 carrots, sliced
¾ cup flat-leaf parsley
⅓ cup walnuts, chopped
3 tbsp olive oil
2 tsp lemon zest
½ lemon yields lemon juice
1 tbsp, leaves thyme
½ tsp table salt
¼ tsp crushed red pepper flakes
¼ tsp, ground black pepper
Directions
In a large pot of salted boiling water, cook pasta to al dente according to package directions. Drain pasta and return to pan.
Add sardines, tomatoes, roasted red pepper, carrots, parsley and walnuts. Whisk together olive oil, lemon zest, lemon juice, thyme, salt, red chili flakes and black pepper. Add dressing to pasta and toss to coat.