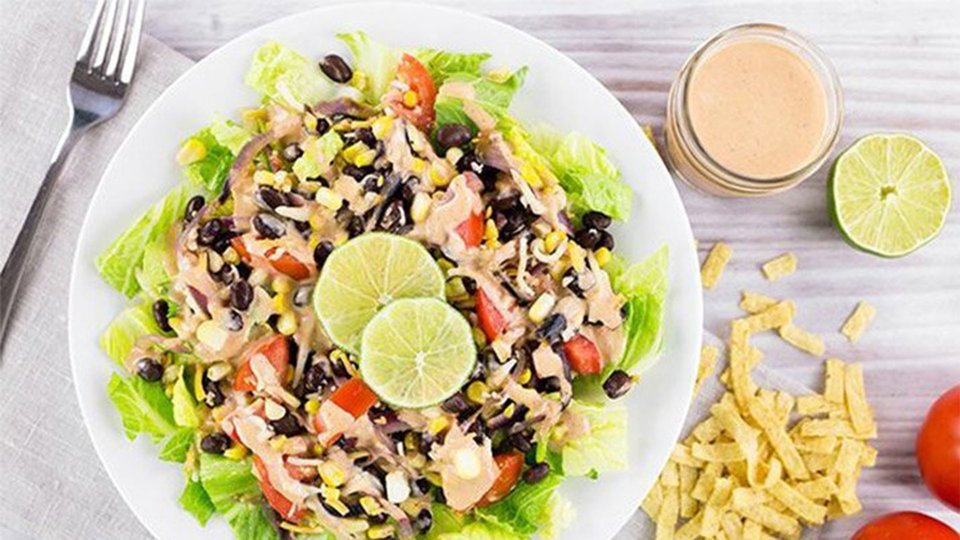 Do you ever have cravings for a really, really good salad? We do too! Too often, salads let us down with bland flavors, but not this one. This recipe is jam-packed with delicious flavors and rich tang. With 7 grams of fiber and only 219 calories per serving, it's a satisfaction-guaranteed meal.
Ingredients
1 tsp olive oil
2 ear, yields corn on the cob, cooked
½ cup red onion, sliced
½ tsp cumin
⅛ tsp chili powder
¼ tsp table salt
⅛ tsp, ground black pepper
2 tbsp lime juice
3 head romaine lettuce
¼ cup reduced fat cheddar cheese, shredded
Dressing Ingredients
¾ cup ranch dressing, reduced-fat
2 tbsp low-sugar barbecue sauce
Directions
Heat the olive oil in a large skillet over medium heat.
Slice the kernels off of the ears of corn, and add them and the onion to the heated skillet. Season them with the cumin, chili powder, salt, and pepper. Cook for 8-10 minutes, stirring occasionally until the onions are soft. Squeeze the juice of half of the lime into the skillet, stir, and transfer the contents to a plate; set aside to cool.
Chop the lettuce into bite-sized pieces; wash in a salad spinner, and transfer to a large serving bowl.
In a medium bowl, combine the beans, tomatoes, reserved roasted corn, onions, and cheddar cheese.
Prepare the dressing: In a small bowl, whisk together the ranch dressing, barbecue sauce, and the remaining juice of half of the lime.
To serve, place two cups of lettuce in a bowl and top with a heaping 3/4 cup of the bean mixture. Top with optional tortilla strips.