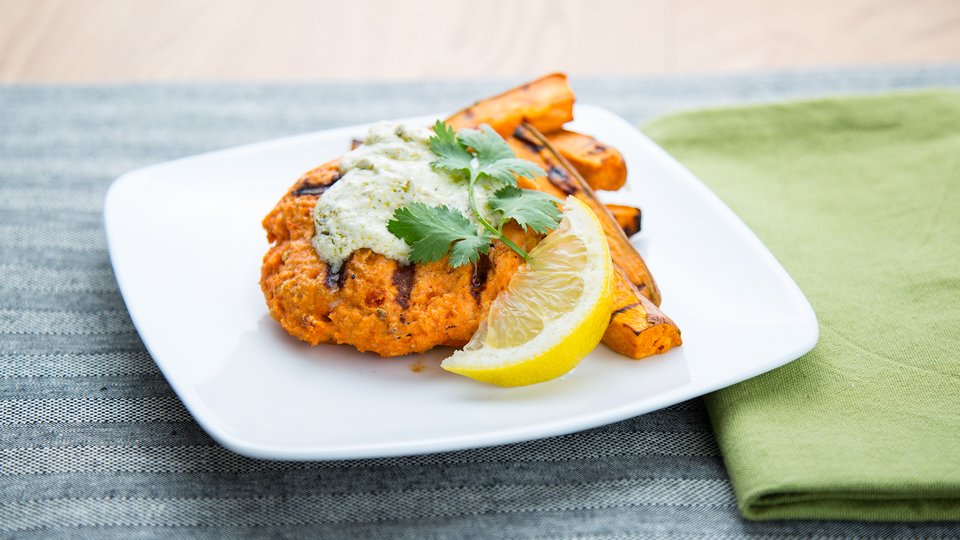 A punchy, pesto-infused yogurt sauce sets this dish apart from the standard-variety grilled salmon. For a healthier, unfried version of a burger's best friend, grill up these sweet potato wedges for some quality complex carbs and a big dose of antioxidants. Parboil the wedges in a pot of water just until slightly tender, and the insides will finish cooking on the grill before the outsides are completely charred. The salmon patties can be formed up to two days in advance if chilled.
Ingredients
2 whole sweet potato, sliced into fry wedges
4 tsp grapeseed oil
½ tsp table salt
½ tsp, ground black pepper
16 oz salmon fillet
1 whole egg
½ cup whole-wheat panko bread crumbs
⅓ cup sun-dried tomatoes
3 tbsp horseradish
2 tsp dijon mustard
½ cup nonfat plain Greek yogurt
3 tbsp pesto
2 tsp lemon zest
Directions
Build a medium-hot fire in a charcoal grill, or heat a gas grill to medium-high.
Place potato wedges in a saucepan, cover with water and bring to boil. Cook for 3 minutes, or until slightly tender, but not cooked all the way through. Drain well and then toss with 2 teaspoons oil, 1/4 teaspoon salt and 1/4 teaspoon black pepper. Place wedges on grill grate and grill for about 10 minutes until dark marks appear and potatoes are cooked through
As sweet potato cooks, place salmon, egg, bread crumbs, horseradish, mustard, 1/4 teaspoon salt, and 1/4 teaspoon black pepper in food processor container. Examine salmon closely to ensure there are no bones in it. Pulse mixture several times until you have a chunky paste, then gently form into 4 patties. Brush salmon burgers with 2 teaspoons oil and grill for 3 minutes per side, or until fish is just barely cooked through.
Stir together yogurt, pesto, and lemon zest. Serve burgers topped with yogurt pesto sauce and sweet potato wedges on the side.