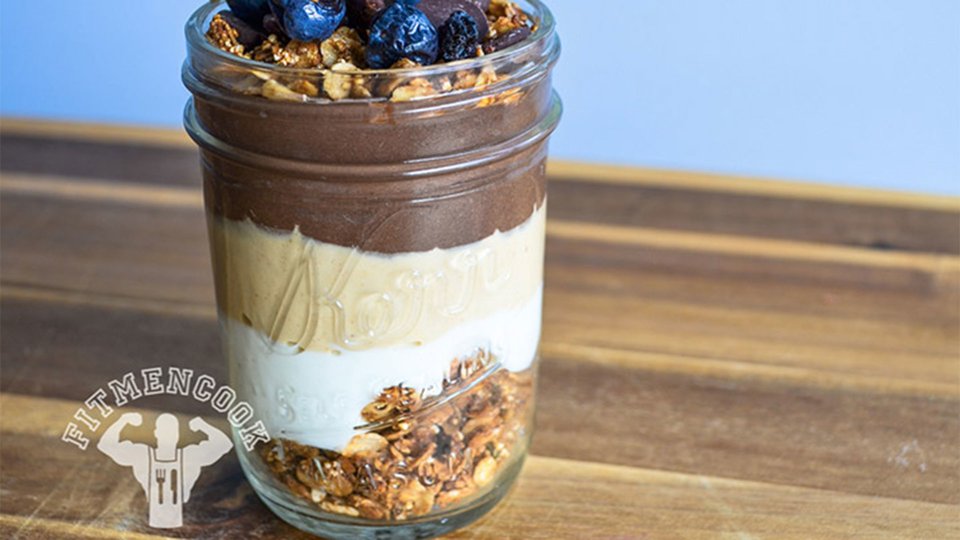 This parfait packs a punch; and not just because it's made with Gaspari Nutrition ISOFusion. The shot of coffee gives you the jolt you need to jumpstart your day.
Ingredients
1 scoop gaspari Nutrition Myofusion Advanced Protein
1 tbsp instant coffee
1 tbsp cocoa powder, unsweetened
1 cup nonfat plain Greek yogurt
2 tbsp powdered peanut butter
⅓ cup granola
6 berries blueberries
1 tbsp dark chocolate chips
Directions
Add granola to a jar, glass, cup or bowl.
Add 1/3 cup yogurt on top of the granola.
Mix 1/3 cup yogurt with powdered peanut butter. Add to the jar.
Mix 1/3 cup yogurt with protein powder, coffee, and cocoa powder. Add to the jar.
Top parfait with granola, 1 tbsp of chocolate chips, and blueberries.