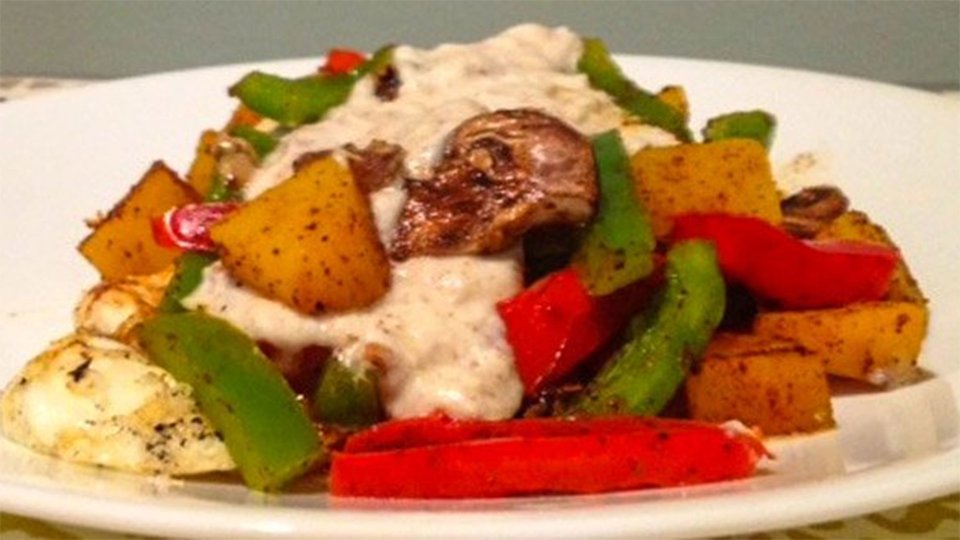 This Thai-inspired dish combines the sweetness of pumpkin with the savory spice of a peanut sauce. Best of all, it is packed with protein to kickstart your day!
Omelet Ingredients
5 egg whites
¼ cup, sliced green bell pepper
¼ cup, sliced red bell pepper
¼ cup mushrooms, sliced
¼ cup (1" cubes) pumpkin
½ tbsp chili powder
½ tbsp paprika
Peanut Sauce Ingredients
1 tbsp natural peanut butter
2 tbsp nonfat plain Greek yogurt
Directions
Boil pumpkin in a medium-sized pot for approximately 10 minutes, or until pumpkin is tender.
Meanwhile, sauté the other vegetables.
Cook egg whites in a separate pan over medium heat.
Once cooked, combine pumpkin with the sautéed vegetables and stir in chili powder and paprika.
In a separate, small bowl, mix together the peanut butter with yogurt.
Scoop the vegetable mixture over egg whites and pour the peanut sauce on top.