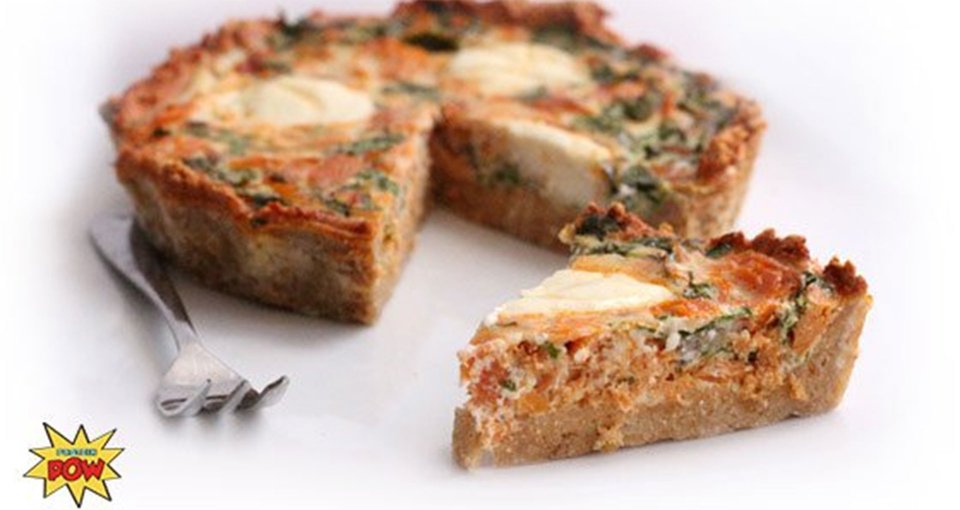 You can't go wrong with quiche, or with the protein crust that's the star of this low-carb dish! Not only is it a great way to eat your eggs, it's also a great vehicle to transport the rest of your meal from plate to palate.
Crust Ingredients
½ cup(s) pea protein powder
¼ cup ground almonds
½ cup liquid egg whites
Filling Ingredients
1 cup egg whites
4 oz salmon, smoked
⅛ tsp cilantro
1 dash table salt
1 pinch paprika
Directions
Crust directions: Blend pea protein powder (could sub with Rice Protein Powder but not Whey or Casein), ground almonds, liquid egg whites and seasoning until you get a sort of dough.
Press your dough onto a quiche pan with your fingers. Make sure you cover the bottom and sides of the pan with the dough. Then, stick it in the oven at 325 F (around 160 C) for about 15 minutes, or until it's cooked through.
Quiche directions: Pour your filling of choice into the crust. I just whipped 1 cup of egg whites with 4 oz of smoked salmon, a handful of cilantro, some salt, and a bit of paprika. The filling is really up to you. You can use whole eggs with ham or bacon, spinach and ricotta, red pepper and caramelized onion, or cheddar and broccoli. Make your own wacky combination or stick to the classics! When it comes to filling your protein quiche, the sky's the limit.
While optional, I finished my quiche off by adding three dollops of mascarpone. Ricotta or another soft, creamy cheese would work too. After all, nothings better than diving into a quiche filled with pockets of creamy, cheesy goodness.
Bake the whole thing at 375 F (around 190 C) for 15-25 minutes or until your quiche is cooked through. Let it cool before slicing.