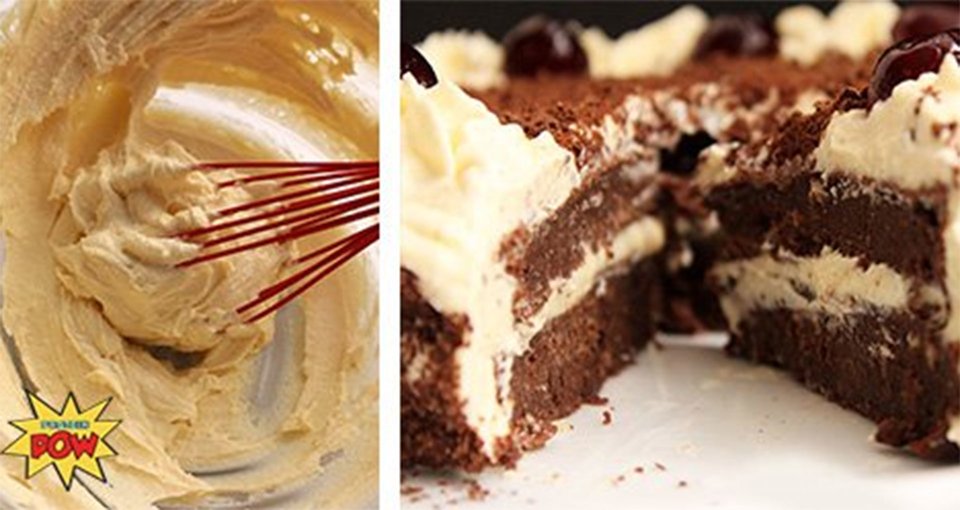 Cake doesn't have to be covered in sugary frosting or made of ice cream to be delicious. Still skeptical? Put this delicious protein black forest cake to the test!
Cake Ingredients
1 cup black beans, drained and rinsed
¼ cup agave syrup
1 cup egg whites
½ cup(s) pea protein powder
½ cup almond milk
¼ cup cocoa powder, unsweetened
2 tbsp baking Stevia
1 cup gluten-free oats
Topping Ingredients
340 g nonfat plain Greek yogurt
8 oz fat-free cream cheese
½ cup(s) casein protein powder
Directions
Blend all cake ingredients together until they're well combined and the batter is smooth.
Bake at 320 F (160 C) for 30-35 minutes or until a toothpick comes out clean.
For the frosting, mix all frosting ingredients together until you get a creamy thick batter.
Let the cake cool completely before frosting.
Cut the cake in half horizontally and fill it with frosting. Looking for an added punch of flavor? Coat the middle layer with cherry jam.
Frost the sides and top of your cake. Make additional decorations by using a piping bag. If you want, stay true to traditional black forest cake by adding shaved dark chocolate and cherries.
Top with 16 candles-the extra one is for good luck—close your eyes, and make a wish. Eat up!