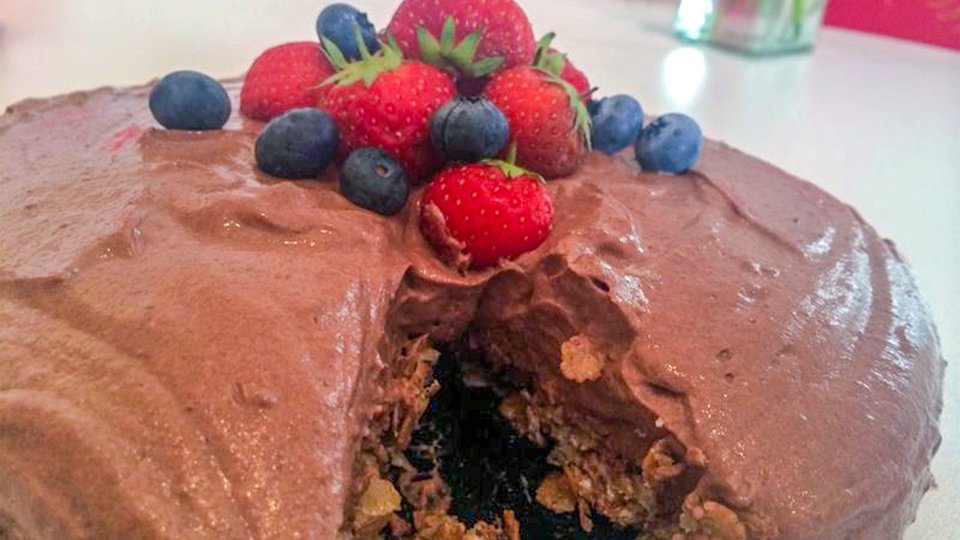 Get your post-workout nutrition needs met with this delicious chocolate protein cheesecake recipe. It's bursting with taste, protein, and clean carbohydrates.
Cheesecake topping Ingredients
500 g quark
250 g yogurt, fat-free
60 g unflavored whey protein powder
3 tsp cocoa powder, unsweetened
2 tsp vanilla extract
2 egg whites
1 packet gelatin powder
50 g blueberries
40 g strawberries
7 fl oz nonfat milk
Cheesecake base Ingredients
450 g muesli
2 tsp honey
1 tsp extra virgin coconut oil
Directions
Topping directions: Add gelatin to water. If using powder, 1 tsp is the equivalent to 1 packet/leaf of gelatine.
In a bowl, mix the milk and cocoa. Add the gelatin.
In a large separate bowl, mix the yogurt, whey protein, quark and vanilla extract. Mix until smooth.
Add milk, cocoa, and gelatin mixture to the yogurt, whey protein, quark, and vanilla extract mixture.
In separate bowl, whisk egg whites.
Slowly fold eggs whites into quark mixture.
Carefully add the strawberries and blueberries to the mixture.
Cheesecake base directions: Heat coconut oil and honey until melted.
Stir in muesli until fully coated with oil and honey.
Place mixture in springform tin. Gently press the mixture into place so it's even and compact.
When cooled, gently spread topping mixture on top. Fold in the egg whites for a light, fluffy texture.
Place in fridge for at least 4 hours or until the entire cheesecake is set and the top is firm.