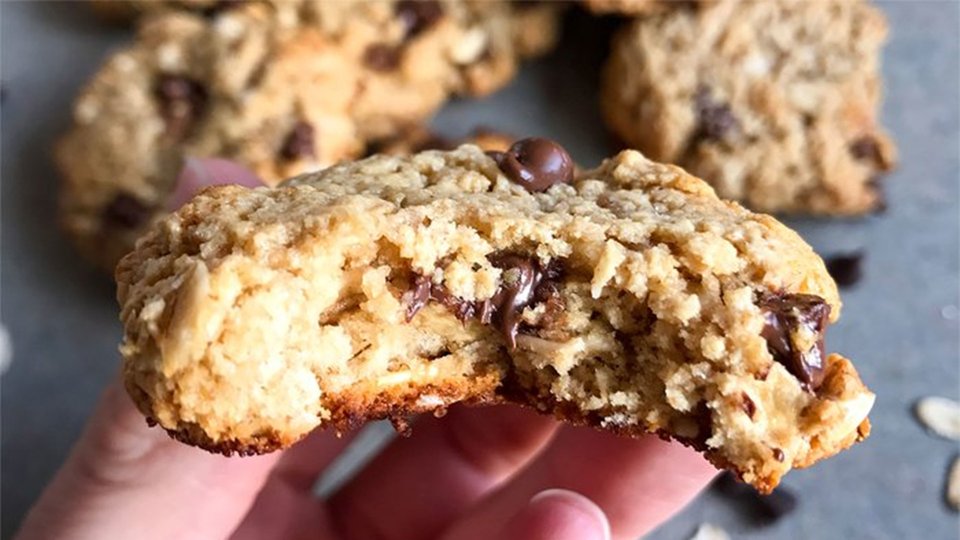 If you love a crunchy, chewy cookie, these peanut butter oatmeal cookies are for you! The flavor strikes the right balance of sweet and salty without being too rich. Not to mention, six of these crave-worthy cookies total just over 300 calories, and they're high in protein and low in fat—perfect for a post-workout snack.
Ingredients
30 g vanilla whey protein powder
½ cup rolled oats
1 tbsp splenda, brown sugar blend
1 tbsp pyure organic stevia blend
⅛ tsp baking soda
2 tbsp natural peanut butter
2 tbsp liquid egg whites
2 tbsp sugar-free maple syrup
¼ tsp vanilla extract
¼ tsp butter extract
2 tbsp semisweet chocolate chips
¼ tsp table salt
Directions
Preheat oven to 350 degrees F.
Combine dry ingredients in a medium bowl.
Add peanut butter and remaining wet ingredients, mixing until combined.
Fold in chocolate chips (mini).
Lightly coat a baking sheet with cooking spray.
Scoop cookie dough onto prepared sheet by rounded tablespoonfuls.
Bake for 8-10 minutes, or until edges are firm and golden brown.
Let cool 5-10 minutes before eating. Store any leftovers up to one week at room temperature.