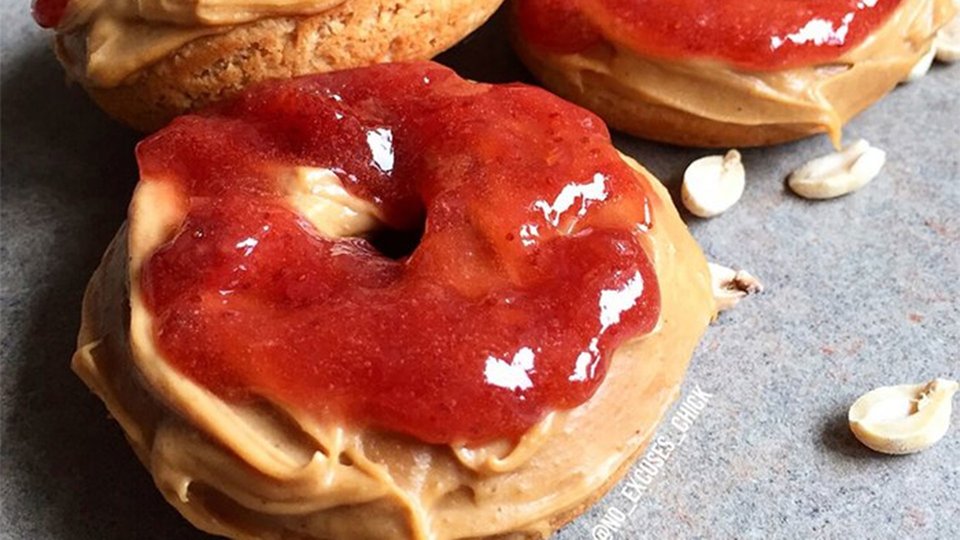 If you ask me, peanut butter and jelly is far too dreamy a combination to be confined to childhood lunchboxes. It's time to indulge in a healthier version packaged in delicious doughnut form. The flavor of these protein doughnuts is spot-on and will bring some serious nostalgia into your life. The texture is just, well, wow! Seriously, these macro-friendly donuts will blow your mind—without blowing your daily calories.
Donut Ingredients
25 g vanilla whey protein powder
25 g powdered peanut butter
2 tbsp coconut flour
1 tsp Pyure organic stevia blend
½ tsp baking powder
1 tbsp natural peanut butter
½ cup egg whites
¼ tsp table salt
¼ tsp butter extract
Frosting Ingredients
25 g powdered peanut butter
3 tbsp water
2 tsp natural peanut butter
1 tsp Pyure organic stevia blend
3 tbsp sugar-free raspberry jelly
Directions
Preheat oven to 325 degrees F.
Whisk together dry ingredients in a mixing bowl.
Mix in wet ingredients to form a thick dough.
Lightly coat three wells of a doughnut pan with cooking spray.
Spoon dough into a zip-close bag and cut off one corner. Pipe dough into prepared wells.
Bake for 8-12 minutes or until an inserted toothpick comes out clean.
While doughnuts cool, mix together peanut protein, water, peanut butter, and sweetener to make a peanut butter frosting.
Spread peanut butter frosting over doughnuts and smother with sugar-free jam. Devour!