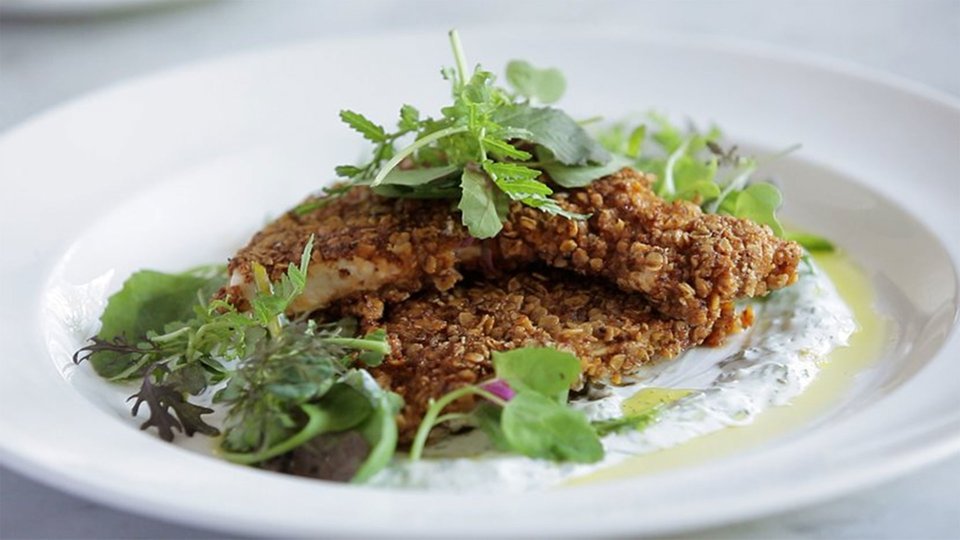 Stop eating the same baked chicken over and over. Add a little crunch, spice, tang, and zing to tonight's dinner with this oat-crusted chicken recipe!
Oat-Crusted Chicken Ingredients
4 piece chicken breast
1 egg
1½ cup raw oats
2 tbsp canola oil
2 tsp paprika
1 tsp garlic powder
1 tsp cumin
¾ tsp table salt
1 tbsp water
Yogurt Sauce Ingredients
3 cup nonfat plain Greek yogurt
1 lemon
3 clove garlic, minced
3 tbsp fresh dill
salt and pepper to taste
Directions
Combine all ingredients for the yogurt sauce into a small bowl and stir until evenly mixed.
In a shallow dish, mix paprika, garlic powder, cumin, salt, and oats.
In a second dish, beat the egg and water with fork until frothy.
Place the chicken in a plastic bag and flatten it by beating firmly on each side.
Heat the stove to medium; add canola oil to the pan.
Dip chicken into the egg mixture, then coat with seasoned oats mixture.
Cook the chicken in the pan until golden brown on both sides.
Drizzle yogurt sauce on a serving dish, and place the chicken on top.