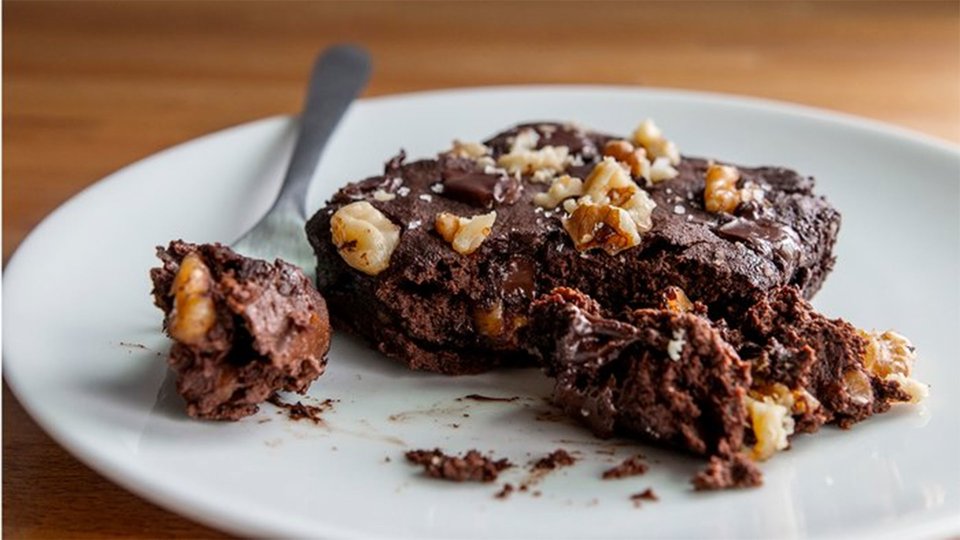 Don't worry about overindulging with this perfect, single-size dessert. Enjoy a gooey brownie made just for you.
Ingredients
3 tbsp raw cacao powder
1½ tbsp oat flour
1 tbsp coconut sugar
3 tbsp water
1 tbsp nonfat plain Greek yogurt
1 tbsp walnuts, chopped
1 tbsp dark chocolate chips
1 dash sea salt
Directions
In a bowl, add cacao powder, wheat or oat flour, Greek yogurt, coconut sugar, and a little water. Mix.
Add some crushed walnuts and optional dark chocolate chips for that extra chocolate goodness. If you find the batter is too thick, don't worry. Just add tablespoons of water until it loosens up.
Spray a small microwave-safe bowl with coconut oil, and pour in the batter. For kicks, add a few walnuts and chocolate chips on top.
Place the mixture in the microwave for 2-1/2 to 3 minutes. Allow the brownie to cool for a minute or two before enjoying.
Kick the flavors up a notch by sprinkling with sea salt. Enjoy!
Protein Boost: Add 1/2 scoop chocolate Cellucor Cor-Performance Whey and a few more tablespoons of water to ensure the brownie doesn't dry out when cooking.