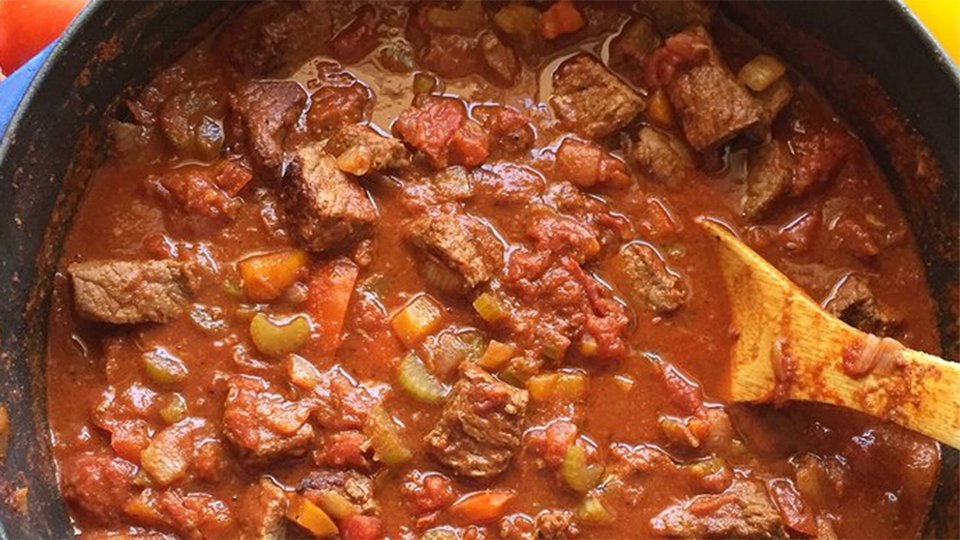 Nothing's more comforting than sitting down to a bowl of warm protein-rich goulash on a cool day. Slurp your way swole with this recipe!
Ingredients
1 tbsp olive oil
1 cup onion, finely chopped
¼ cup paprika
2 lb beef, bottom-round
4 clove garlic, minced
1 red bell pepper, chopped
28 oz diced tomatoes
½ cup stalk celery, finely diced
1 cup low-sodium beef broth
2 tbsp worcestershire sauce
1½ tsp table salt
½ tsp, ground black pepper
2 bay leaf
1 tsp caraway seed
Directions
In a Dutch oven or large saucepot, cook onions with olive oil over medium-high heat, stirring frequently, until lightly browned.
Remove from heat, and stir in paprika (you don't want the paprika to burn and turn bitter).
Add diced beef and minced garlic and return to heat. Cook for 15-30 minutes until tender and no longer pink (tougher cuts require more time).
Add bell pepper, diced tomatoes, celery, and remaining ingredients. (This is also where you would add other diced vegetables like carrots, parsnips, or potatoes).
Bring to a boil, cover, reduce the heat to medium, and simmer for 30-40 minutes.
For meal prep, divide the batch into six portions. Enjoy!