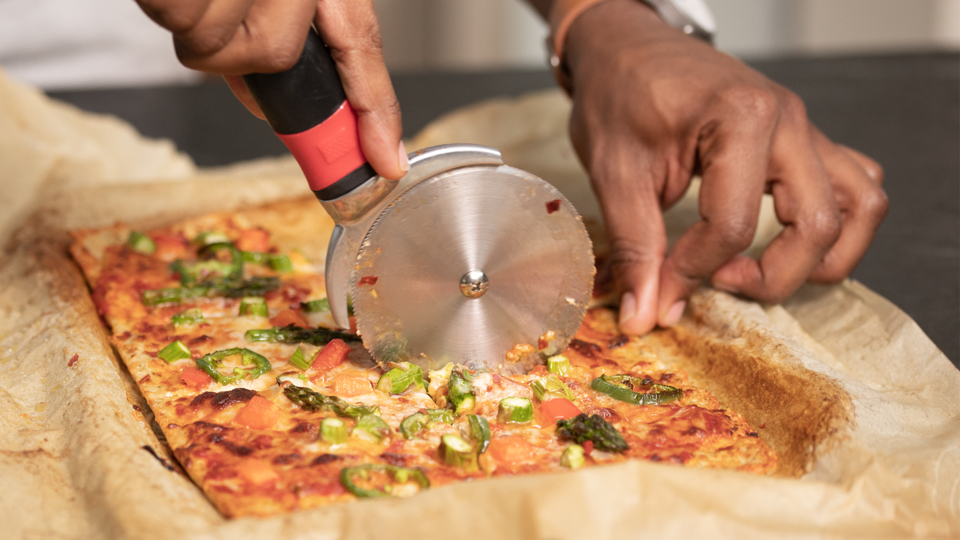 This fan favorite is the most delicious way to enjoy your favorite comfort food: low-carb and guilt-free!
Crust Ingredients
1¼ lb chicken breast
½ cup low-fat parmesan cheese
1 tbsp Italian seasoning
1 dash black pepper
Topping Ingredients
3 tbsp low-calorie pizza sauce
½ cup fat-free mozzarella cheese
½ cup asparagus, chopped
½ red bell pepper, chopped
1 jalapeno pepper, diced
Garnish Ingredients
1 tbsp crushed red pepper flakes
Directions
Set oven to 450 degrees F.
Add the ingredients for the crust to a food processor or high-powered blender. Pulse blend until mixed and minced.
Line a baking sheet with parchment paper. Add the chicken mixture and pat it down to form a thin circle or a large rectangle, less than 1/4-inch thick.
Bake chicken crust in the oven for 13-15 minutes, or until the edges have browned and the chicken has cooked through.
Remove crust from oven and add the toppings in the order listed.
Return pizza to the oven and bake until the cheese is brown and bubbly, about 6 minutes.
Remove from the oven and garnish with red pepper flakes. Allowing the pizza to cool slightly will make it much easier to cut and hold like traditional pizza.