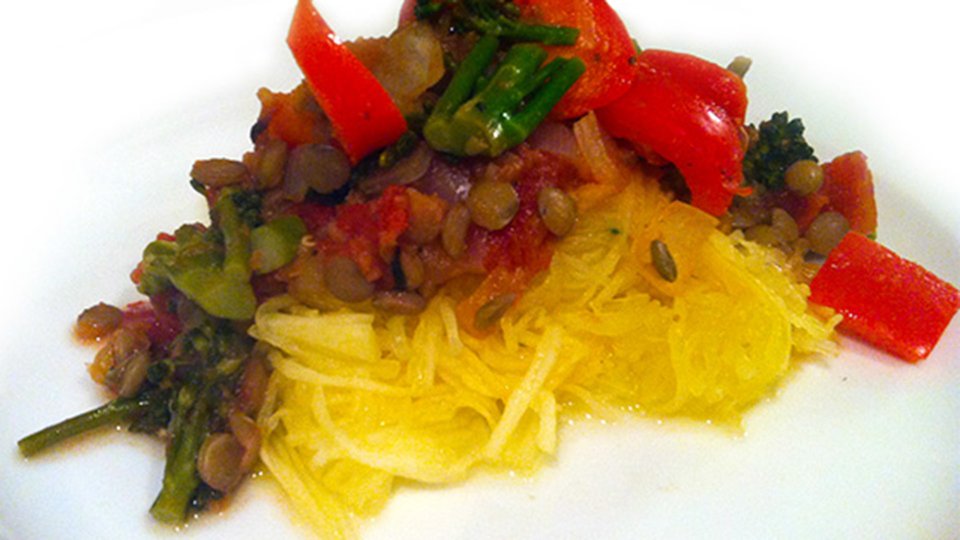 When you're dieting for a competition, it's unlikely your nutrition plan allows for pasta. Don't be sad! This recipe tastes just as good as the real thing—just without all the simple carbs. You'll get some healthy, complex carbs from the lentils and extra veggie goodness from the spaghetti squash.
Ingredients
2 cup tomatoes, canned, stewed
1 cup dried lentils
1 tbsp olive oil
1 cup broccoli
½ cup onion, finely chopped
½ cup, chopped red bell pepper, sliced
1 Tbsp garlic, chopped
1 tbsp italian seasoning
1 salt and pepper to taste
1 medium summer squash
Directions
Preheat oven to 400 degrees.
Pierce squash with fork multiple times and bake for 60 min, or until outside is softened.
In a large pan, heat olive oil and garlic over medium heat.
Add lentils, tomatoes, veggies and spices.
Bring to a boil and reduce to a simmer for 15 minutes.
While sauce is cooking, scrape out spaghetti squash with fork onto plate.
Top with about one cup of lentil marinara sauce.