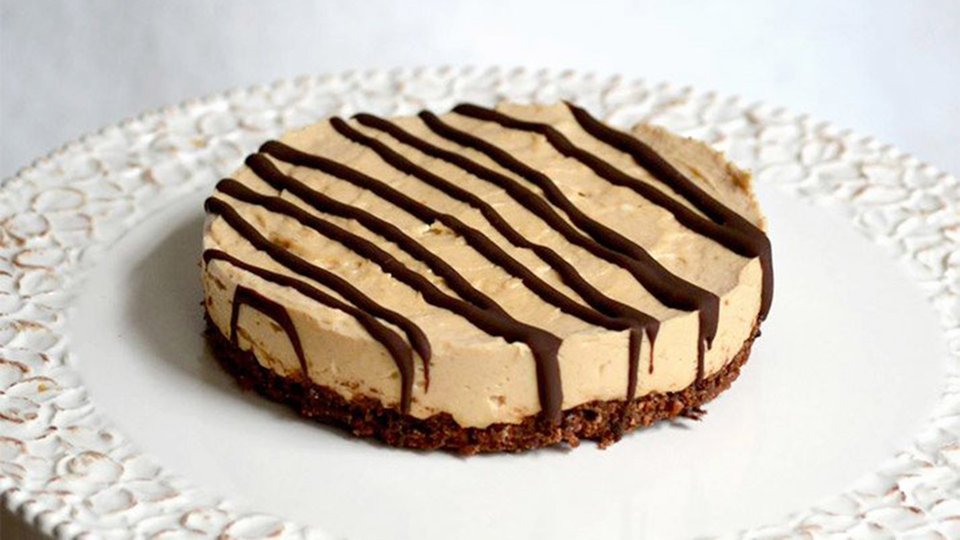 Who doesn't love a good slice of pie? From cherry and coconut cream to lemon and pecan, pies are always a win. But when a sliver of the good stuff threatens to ruin your entire day of training and eating clean, the indulgence suddenly doesn't seem as sweet.
Chocolate crust Ingredients
¼ scoop jamie eason signature whey protein isolate
2 tbsp almond flour
2 tbs xylitol
1 tsp raw cacao powder
¼ cup fat-free cream cheese
¼ cup (8 fl oz) yogurt, fat-free
1 tsp maple syrup
¼ cup powdered Stevia
¼ tbsp coconut oil
2 tbsp natural peanut butter
Toppings Ingredients
¼ cup mini chips semisweet chocolate chips
Directions
Preheat oven to 350 degrees F. Spray a mini 4.5-inch springform pan with cooking spray. Set aside.
Combine all crust ingredients together in a small mixing bowl. Blend together until a chocolate crumble forms.
Add in half a teaspoon of water, and stir. The mixture should hold its shape when pressed together.
Spoon this mixture into the springform pan and press down, molding the mixture to the bottom of the pan to form a crust.
Bake the crust in the oven for 5 minutes, then set aside to let cool while making the pie.
Using a handheld blender, mix together the cream cheese, peanut butter, and Greek yogurt until completely smooth. Add in the remainder of the pie ingredients and blend until smooth.
Pour pie mixture into springform pan, on top of chocolate pie crust. Smooth down with a spoon and place in the freezer for at least 1 hour.
After the pie has chilled, take it out of the freezer. Gently remove from the springform pan and transfer to the serving dish.
Drizzle melted chocolate on top of entire pie and slice into 6 even pieces. Serve immediately, and enjoy!