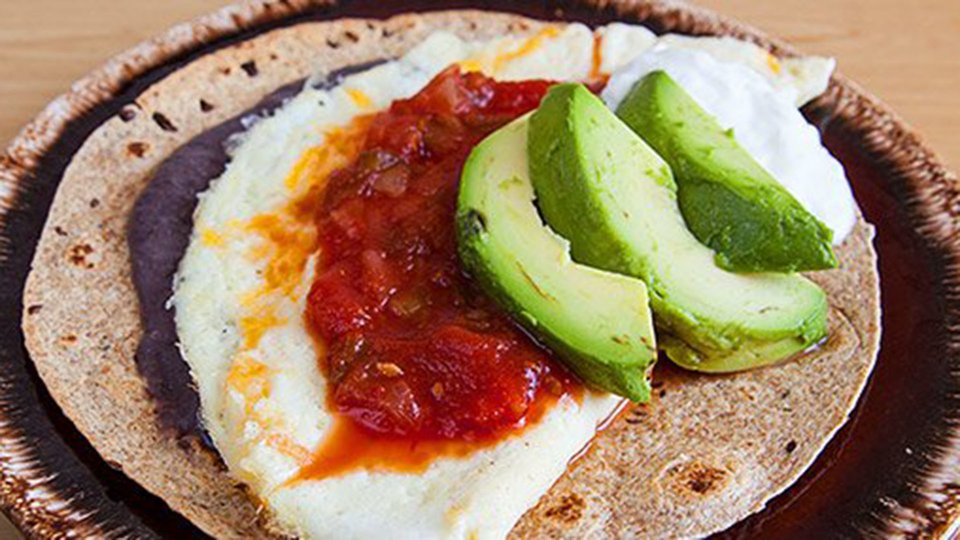 Warning: this dish causes a fiesta in your mouth! Super filling and flavorful!
Ingredients
1 whole whole-wheat tortilla (10-inch)
¼ cup low-sodium black beans
½ tsp cumin
½ tsp table salt
1 clove garlic, chopped
5 large egg whites
¼ cup salsa
1 cup, pureed avocado
2 tbsp nonfat plain Greek yogurt
1 to taste red pepper
¼ cup reduced fat cheddar cheese, shredded
Directions
Preheat oven to 350 degrees Fahrenheit.
Prepare black bean puree: add black beans, cumin, garlic and salt into small food processor; pulse until puree and pour into a pot over medium heat.
Meanwhile, place wrap in the oven on baking pan and cook for 5 minutes on each side.
Pour egg whites onto skillet over medium heat. Sprinkle cheese over half of the eggs and flip the other side once the omelet sets.
Prepare the dish by spreading the black bean puree over the wrap and slide omelet on top.
Garnish with salsa, yogurt, avocado and crushed red pepper.