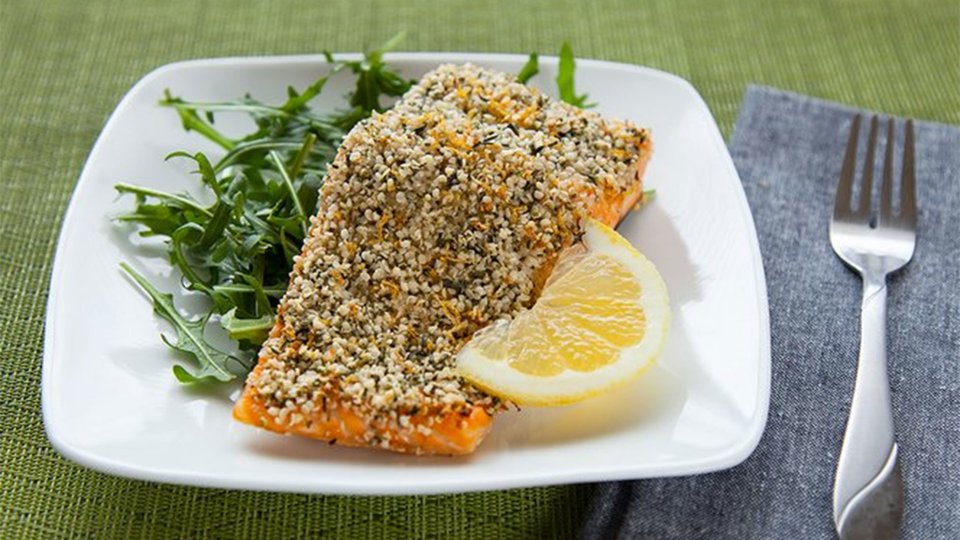 Hemp and salmon team up to create a dish that contains a boatload of mega-healthy omega-3 fats and muscle-sculpting protein—just another example of how you can slip ultra-versatile hemp seeds into any meal for a nutritious boost.
Ingredients
2 fillet salmon fillet
3 tbsp hemp seeds
2 tsp lemon zest
1 tsp fresh thyme
½ whole lemon, cut into wedges
1 tbsp olive oil
Directions
Preheat oven to 400 degrees Fahrenheit. Line a baking sheet with parchment paper or foil. Place salmon on sheet skin-side down. Rub olive oil over each fillet, then season with salt and black pepper.
In a small bowl, stir together hemp seeds, lemon zest, and thyme. Cover the top of each fillet with the hemp-seed mixture, pressing down gently to help the mixture stick.
Place salmon in the oven for about 12 minutes, or until salmon is just barely cooked through in the center. Serve with lemon wedges.