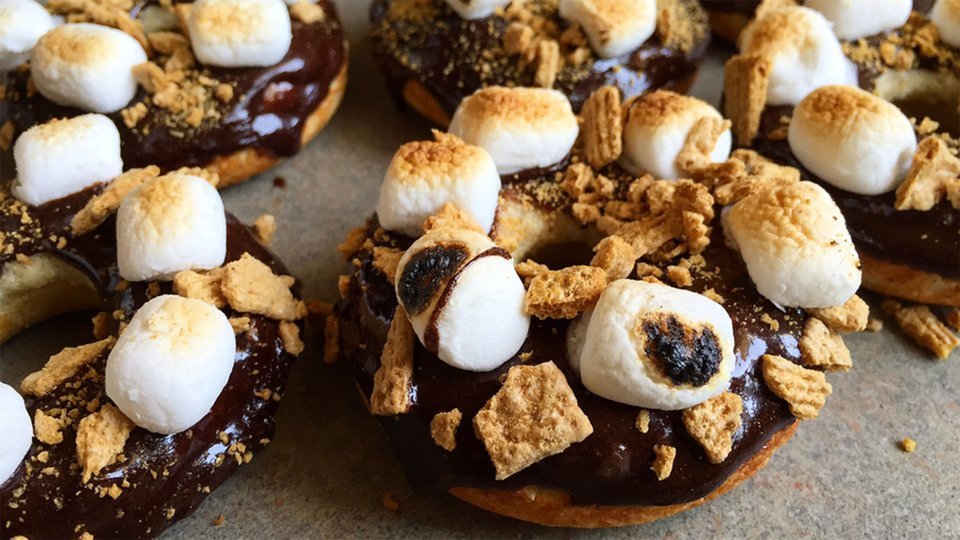 Craving the melt-in-your-mouth flavor of chocolate, marshmallow, and graham? Get the delicious taste of s'mores in protein-donut form, no campfire required!
Donut Ingredients
60 g vanilla whey protein powder
6 tbsp Pyure organic stevia blend
¼ cup spelt flour
2 tbsp coconut flour
½ tsp baking powder
1 egg
¼ cup nonfat plain Greek yogurt
1 tbsp extra virgin coconut oil
¼ tsp cinnamon
Glaze Ingredients
40 g chocolate protein powder
2 tbsp Pyure organic stevia blend
1 tbsp cocoa powder, unsweetened
¼ cup water
2 tbsp sugar-free maple syrup
Topping Ingredients
¼ cup mini marshmallows
¼ cup golden grahams cereal
Directions
Preheat oven to 350 degrees F.
Whisk together dry ingredients until combined.
In a separate bowl, mix together wet ingredients until smooth.
Add wet ingredients to dry mix, and stir until no clumps remain to form a soft dough.
Spoon dough into a sealable baggie, seal the top, and cut off one corner to make a 1-inch opening. This is your piping bag.
Lightly coat the wells of a donut pan with cooking spray and pipe batter into wells. Alternatively, you can just pipe batter into a circle on a lightly greased baking sheet and pinch ends together.
Bake for 8 minutes, or until cooked through but still soft.
While donuts cool, combine glaze ingredients until smooth and thick. Add water 1 tbsp. at a time until a thick frosting consistency is reached.
Spread glaze over donuts, then top with mini marshmallows and Golden Grahams (or crushed graham cracker). Optional step: Place decorated donuts on a baking sheet and broil on high for 2 minutes, until marshmallows are light golden brown.
Enjoy! Store any leftovers in the fridge in an airtight container up to one week (freezing not recommended).