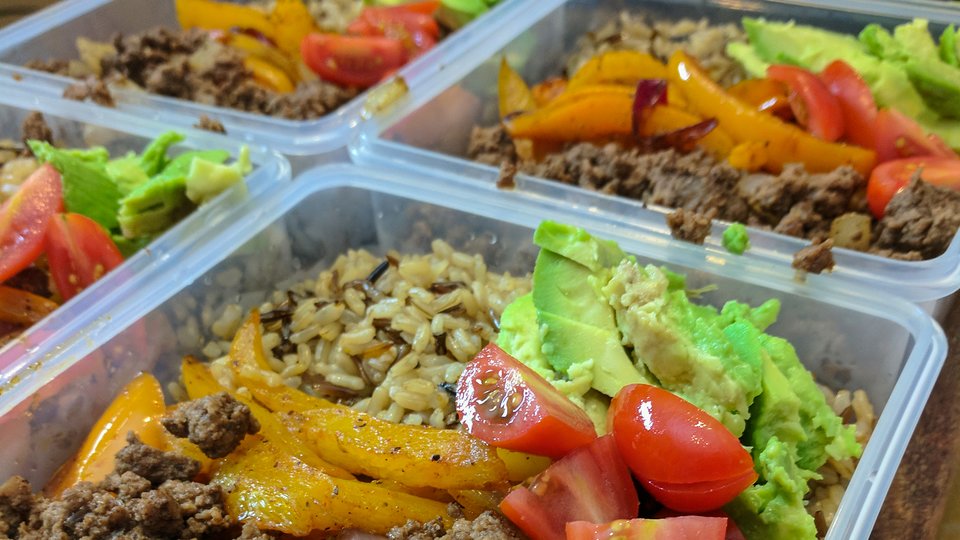 Fajita bowls are nice because you can switch out the protein source based on what you have on hand. If you have extra chicken, use that instead of ground beef. Add or remove ingredients based on your personal preferences. If you don't like rice, try quinoa. Or if you want more fiber, add black beans.
Ingredients
1 tbsp olive oil
1 cup wild rice, cooked
¼ whole diced red bell pepper
¼ whole diced yellow bell pepper
⅛ whole red onion, diced
2 1 cup cherry tomatoes
1 oz lean ground beef
1 salt to taste
1 tsp chili powder
1 oz cumin
1 tsp paprika
Optional Ingredients
1 cup, pureed avocado
1 cup reduced fat cheddar cheese, shredded
1 cup salsa
Directions
Heat olive oil over skillet set on medium-high. Add sliced peppers and onion to skillet, season to taste, stirring often. Remove from pan and set aside when cooked through.
Put ground beef and additional red onion in the skillet and cook until meat is browned. Season to taste.
When the meat is cooked, distribute all of the ingredients among sealable containers and top with tomatoes and any desired optional ingredients.
Keep containers cold until it's time to eat, then heat in microwave for 1-1/2 to 2 minutes before serving.