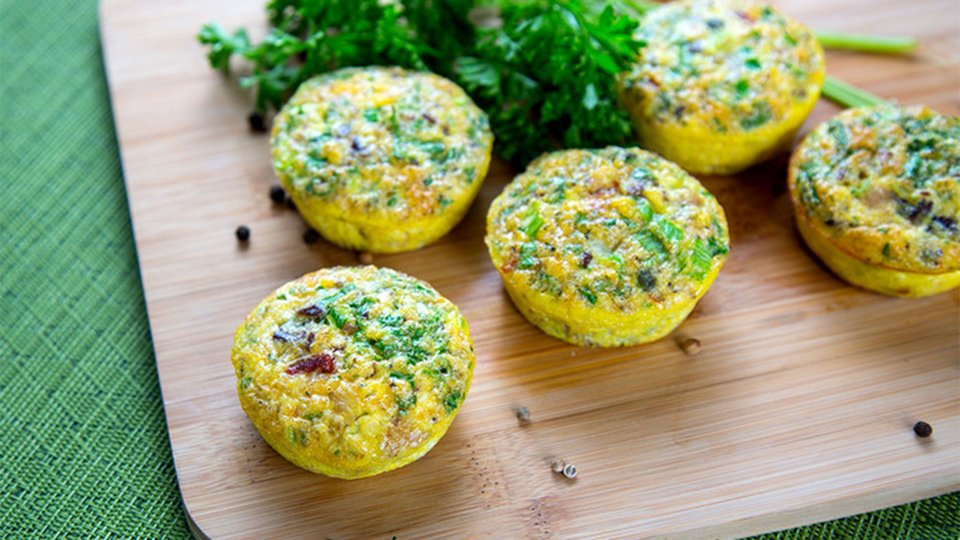 Bake up a batch of these omega-rich egg cakes and you'll have meals in a hurry for the next few days. They can be served at room temperature or after a few seconds in the microwave. Serve with a salad and roasted sweet potatoes or a cooked whole grain like quinoa.
Ingredients
8 egg
8 oz sardines, canned in oil
⅓ cup sun-dried tomatoes
2 tbsp horseradish
2 scallions, sliced
⅓ cup flat-leaf parsley
1 tbsp, drained capers, canned
2 clove garlic, minced
½ tsp table salt
¼ tsp, ground black pepper
Directions
Preheat oven to 375 degrees F. In a large bowl, lightly beat eggs. Roughly chop sardines and stir into eggs along with sun-dried tomatoes, horseradish, green onions, parsley, capers, garlic, salt, and pepper.
Divide among 12 greased or paper-lined muffin cups and bake for 18 minutes or until eggs are set. Let cool for a few minutes before unmolding.