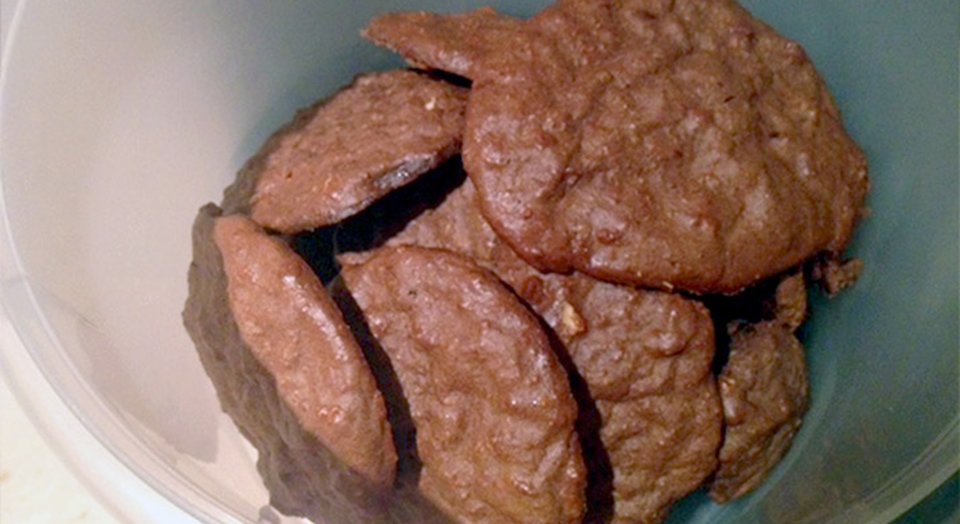 These DTP-approved cookies are packed with protein, complex carbs and muscle-making nutrients.
Ingredients
6 large egg whites
4 small (1-1/2" dia) figs, raw
1 tbsp honey
3 tbsp peanut butter
⅛ cup oat flour
⅛ cup raw oats
⅛ cup quinoa flour
⅛ cup ground flaxseed
1 cup cashews, crushed
1 cup walnuts, chopped
2 tsp cocoa powder, unsweetened
1 cup powdered Stevia
5 scoop vanilla protein powder
Directions
Mix the wet ingredients in a small bowl.
Mix all dry ingredients in a bigger bowl and mix in the wet ingredients. Mix well until the dough is smooth and sticky.
Spray an oven tray with non-fat cooking spray and pre-heat the oven to 350 degrees Fahrenheit (175 C).
Use a tablespoon and scoop out cookies on the tray. Flatten them to about 1/2-inch circles.
Cook in oven for 12-15 minutes. Check after 10 min since the temperature can vary from oven to oven. The cookie should be a little moist in middle.