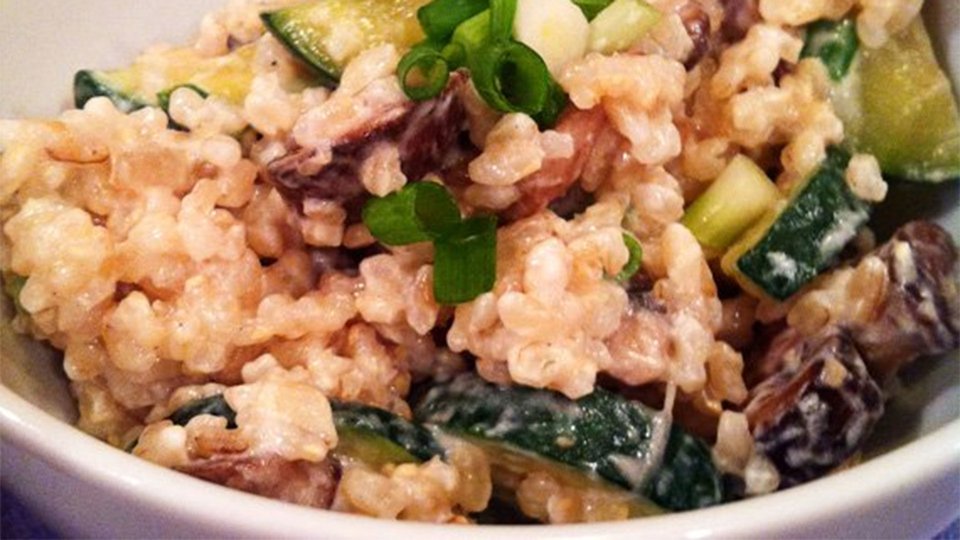 This dish will supply you with necessary complex carbs and a touch of protein. It's loaded with nutritious, antioxidant-packed veggies and will fit into any diet.
Ingredients
1 tbsp olive oil
½ cup zucchini, sliced
1 cup mushrooms, sliced
2 tbsp chopped chives
¼ cup, sliced onions
2 cup brown rice
1 tsp onion flakes
1 tsp garlic, minced
⅛ cup low-sodium chicken broth
¼ cup nonfat plain Greek yogurt
Directions
Heat oil in a large skillet on medium-high heat.
Once oil is hot, add vegetables and garlic, and lightly stir-fry until tender.
Add pre-cooked brown rice and saute for 3-5 minutes, stirring constantly.
If mixture looks dry, stir in some low-sodium chicken broth.
Stir in Greek yogurt and serve immediately.